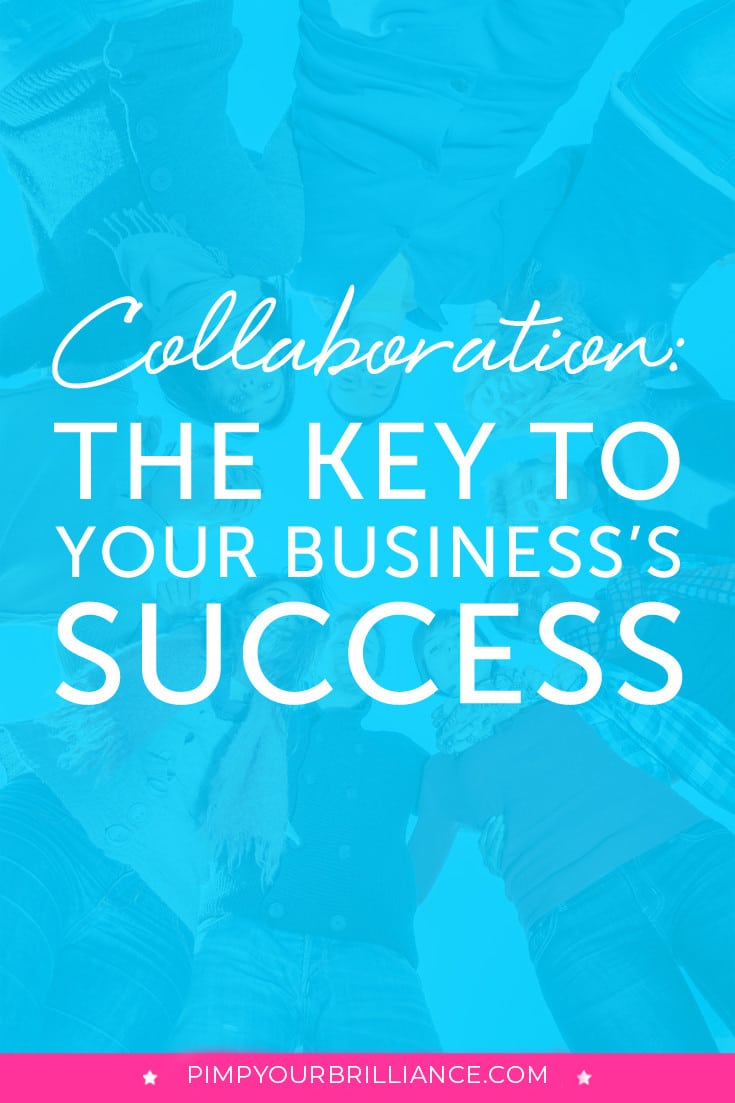 When I was in college there were few things I loathed more than doing group projects. It wasn't that I was against working with other people, I just found the process annoying. I knew I did great work, but working with others meant that I'd have to trust that they did great work too. And I wasn't very confident about that.
Suffice to say I took that same attitude into my business. Guess what?! I suffered through two years of painfully slow growth because I had no one else to help me when I had something to launch.
Once I got myself together and started to reach out to other people I found it so much easier to grow my business and expand my influence.
If you're anti-collaboration and you think you can do this alone, let me remind you. You are not an island. Stop treating yourself and business like one.
---
---
Collaborations can be fun and there are huge benefits to working with others:
Collaborating allows you to pool your network with someone else's. Your personal network only extends so far. If you're looking to make a major impact on your next launch, you need to get in front of a new audience. The fastest way to get exposure to a new audience is to collaborate with one of your creative neighbors.
Collaborations give you instant credibility. You wouldn't introduce your hard-won audience to someone who's work you didn't believe in or whose credibility you found questionable. Neither would your collaborative partners so by working with you, they're giving you the seal of approval in front of their audience. Your credibility is built in. Don't blow it!
You don't know everything! Working with others exposes you to new information and resources which helps you grow as a creative entrepreneur. This is a two-way street. Your collaborative partners are learning from you as well. Like John C. Maxwell says, "Teamwork makes the dream work".
Now that I've sold you on the benefits of collaborating, here's how you can find people to work with:
Join twitter a chat
If you've never participated in a Twitter chat here's a quick overview. A Twitter chat is where a group of people come together at a specific time/ date to tweet about a specific topic or issue. It's normally hosted by one or two people that tweet out questions that you respond to using the chat hashtag.
It's a lot of fun because people are actively engaging and replying to your tweets. You aren't just awkwardly tweeting out into the Twitterverse. There are many great Twitter chats happening every day of the week covering a variety topics (a short list of some you may want to look into). Jump into one and respond to other people's tweets. Be useful. Share your knowledge.
This is a great low-pressure way to meet people with similar interests. I met my first accountability buddy in a twitter chat.
Attend in-person events
I find meeting people offline is so much easier and comes more naturally to me. So I make it a priority to attend in person events on a regular basis. These types of events can include:
Craft shows
Networking events
Conferences
Local groups from meetup.com
Attending in person events has allowed me to make genuine connections with influencers, the event coordinators, brands and other creatives. Just make sure you send an email to follow up after the event to keep the relationship alive.
Hangout in Facebook Groups
There are plenty of Facebook groups full of amazing and smart people. Try joining a few that interest you. Then hang out, ask questions and reply to others questions. It won't take long for you to make connections and friends. If you want to get a head start on joining groups with cool people, join the Star Chasers Only community group.
Send an email
Sending an email introduction still works. Just about everyone has email and checks it regularly. If there is someone online that you're interested in collaborating with or befriending send them a quick email introducing yourself. Let them know what you like about their work and go from there.
As a word of caution, I wouldn't suggest pitching a collaboration idea in the initial email. I'd wait until you've been in contact for a bit before bringing on the full pitch.
Bottom line: If you don't have a circle of business besties or colleagues to work with, you better get some like yesterday. Stop waiting. You don't have to do this alone.
---
---