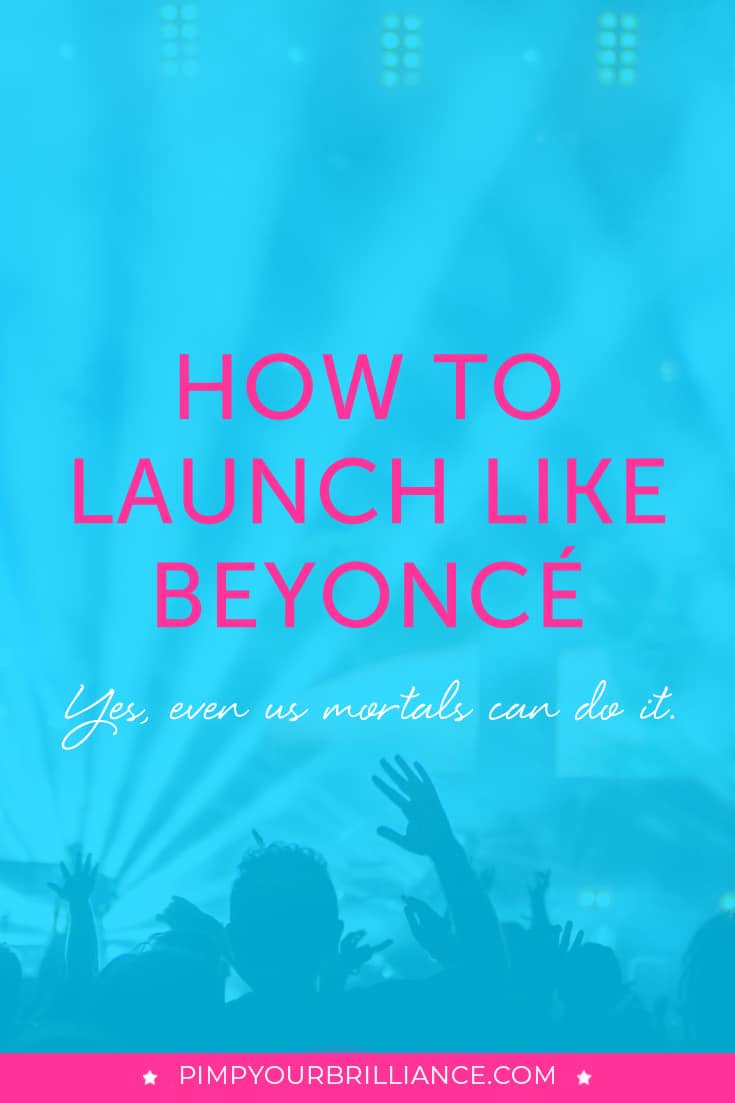 Beyoncé arguably the world's top superstar continues to impress us with her secret album drops. They are not only amazing musically but they also shine a spotlight on the benefits of smart marketing strategy. Beyonce and her team have created an incredible marketing machine.
I've been studying what they are doing and I've noticed several parallels between Beyonce's latest launch strategy and how we launch online. With the release of Lemonade and her upcoming tour, she hit all of the key steps of launching a course or new service like creating free opt-ins, webinars, upselling and down selling.
The best part about this is you don't need her million dollar team to pull off a successful launch. I've broken down Beyoncé's launch strategy and shared a few strategies that you can steal for your launch.
How to launch like Beyoncé:
Release Your Free Opt-in:
Formation Music Video
Beyoncé used the drop of her Formation video as the free opt-in to get people interested in her coming album launch. Her opt-in consisted of a video and song that appealed to her audience (The BeyHive) and she released it for free which increased circulation.
Steal This Strategy– Start thinking about what you can give away for free to garner interest in your coming launch and build your list. Take note that creating a freebie is not a half-assed effort. Your free opt-in should be high quality and valuable to your audience. Also, make it easy to consume and access.
Host A Joint Venture Webinar:
Super Bowl Performance w/ collaborators
The Super Bowl performance gave Beyoncé the opportunity to collaborate with a huge brand (the NFL) and fellow artists. It didn't matter if you came to watch the game or to see Coldplay, as long as you were tuned in you saw Beyoncé. The reach of the different audiences tuned in was massive and made it extremely important for her to have her next move lined up.
Immediately following her performance Beyoncé delivered her pitch- The Formation World Tour. Fans that took action and joined her list were rewarded with the ability to get first dibs on tickets once they went on sale.
Steal This Strategy– Don't launch alone. Pull in collaborators to strengthen your launch and expand your reach beyond your own circle. Then, show up to your webinar ready to wow your attendees. Don't forget to deliver an enticing pitch.
Host Your Signature Webinar:
Lemonade Short Film
The release of the Lemonade short film highlighted all of the work Beyoncé put into her album. It built a buzz and renewed excitement about the tour.
Steal This Strategy– Create a signature webinar or video that focuses solely on educating your audience on topics related to your offer. Show them why it's so great. Over deliver on the content. Prove to your audience that you are the best person to instruct them on this topic. Give them a reason to part with their money.
Something else to note is the pricing strategy used to maximize the profitability of her launch. Beyoncé's team had both an up sell and down sell strategy in place.
Up sell:
Formation World Tour Tickets ($70- $1000+)
This is Beyoncé's premium offer and where her brand is going to make bank. Her most motivated fans with money to spend are more than happy to open their wallets for the chance to see her on tour because she's proven that they are going to see an over the top show. You don't get this type of impact from lazy planning and mediocre strategy.
Down sell:
Tidal subscription ($9.99) or Purchase the album on iTunes ($17.99)
For fans who missed the opportunity to purchase tickets to her concert or simply don't have the funds, she's offering them a lower priced monthly subscription to Tidal. Not a fan of Tidal? No worries Queen Bey is also giving fans the opportunity to buy the album on iTunes for a flat rate.
Steal This Strategy– Don't miss out on the opportunity to make money by sticking to a single price point. Think about how you can serve your audience at various price points. Not everyone will be able to invest hundreds of dollars into your new program but they may be interested in a lower priced workshop or e-book with similar content.
Create your own successful launch strategy:
1. Plan Ahead
If you want to launch with a big pay off you must plan in advance. You can't put together a seamless launch in a day because creating something thoughtful and truly high value takes time. Beyoncé doesn't half ass her launches. She spends time planning ahead how she wants things to play out, who she wants to work with and what she wants the end result to look like.
2. Choose Strong Collaborators
Beyoncé leveraged her relationships with HBO and the NFL/ Coldplay/ Bruno Mars to increase her visibility beyond her audience. You might not have Chris Martin on speed dial but you don't need to. Look around your niche, who would you want to work with? Are there brands in similar niches that you'd like to partner with?  Don't be afraid to pitch a collaboration with another brand. It's mutually beneficial (if it's not benefitting both parties it's not a good collaboration) for both brands and expands their reach beyond their networks. This helps boost credibility, brand awareness and sales.
3. Be Consistent
One of the keys to Beyoncé's longevity in the music industry is her consistency. She continually wows us with stellar visuals, vocals, and high energy performances. Always bring your A-game and strive to wow your audience. How can you be more consistent in the delivery of your message? What systems can you put in place to ensure your audience is being exposed to your content regularly? Take the time to create products and services that speak to what they want (If you don't know what your audience wants, survey them and ask).
4. Let Your Audience Build The Buzz
Give people something to talk about and they will. This doesn't need to be something dramatic like the theme of infidelity (#lemonade) but it should be buzz worthy for your industry. Are you dropping knowledge so valuable in your workshops that your audience has to get on Twitter to share? Are you creating bite sized actionable videos that are excellently produced and perfect for your audience to share on Facebook? Make your content so great that your audience can't resist sharing it for you. Then, make it easy for them to share it be utilizing share buttons.
So what do you think? Are you ready to launch like Beyonce? Talk to me in the comments.
P.S. Please Pin or Tweet this post if you think others will find it useful in monetizing their business.
---