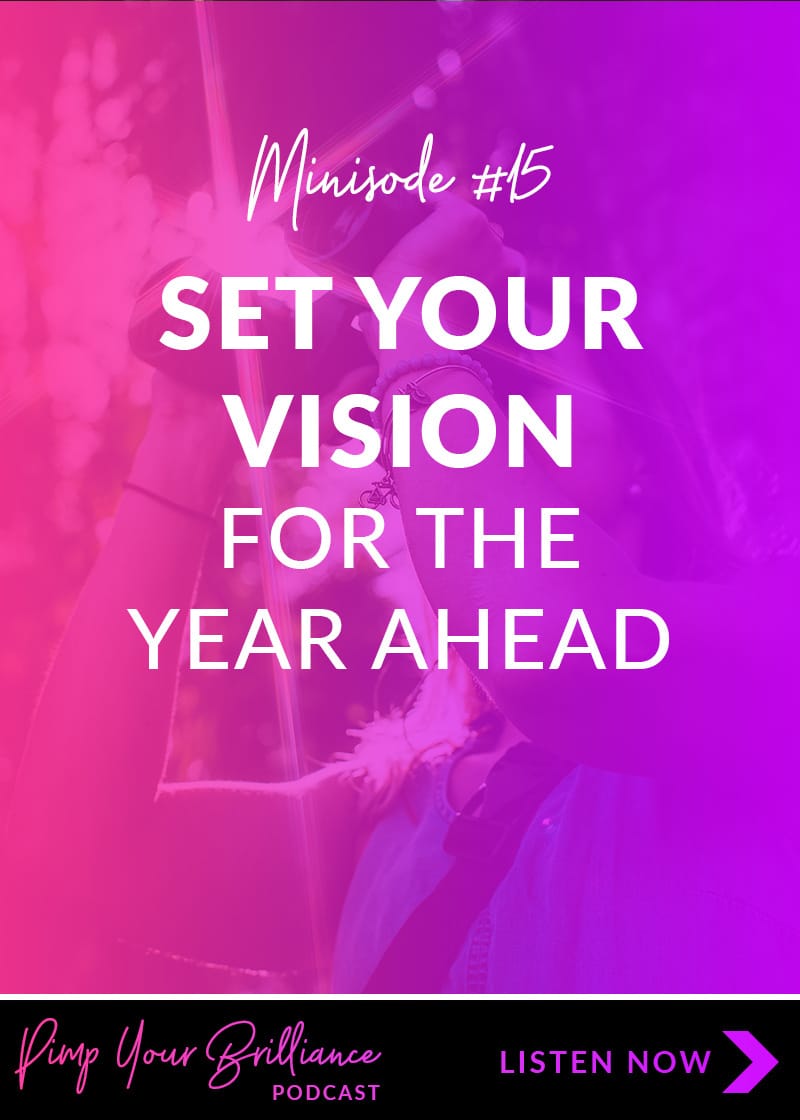 Have you set your vision for this year? So many people have a difficult time finding their mojo at the beginning of a new year. You're coming down from the high of the holiday season and closing out the previous year. Then, you're expected to jump right back in come January 1st.
It doesn't work like that especially if you haven't given yourself space to consider what you want to happen during this fresh 365 days. On this episode of Pimp Your Brilliance, I'm sharing 5 steps to help you set your vision for the year ahead.
---
Press play:
iTunes
Google Play Music
Stitcher
---
Step. 1 Close out the previous year.
Do a mental recap of the previous year. If it helps, use your planner or calendar to help you remember the events and experiences of the past year. What things really stand out? Make a list of everything that stands out. Also, note any important lessons learned.
Lastly, ask yourself:
What am I taking with me into the next year?
What am I leaving behind?
Step. 2 Take inventory of where you are today.
In the Visionary Journal, there is a page for you to think about and set your focus areas for the year. This is where you choose the 6 key areas of your life that you'd like to improve. When setting your vision it's important to have a baseline to measure against.
Some examples of areas to inventory:
Family

Finances

Spirituality

Career/ Business

Love

Happiness
Once you've decided on the 6 areas, rate them on a scale of 1-10. Then, jot down a few sentences about how you feel that you're doing overall. What area(s) are you really struggling in that you can focus in on a bit? What goals are you excited to work towards in each area? Don't restrict yourself.
Step. 3 Choose your goals.
You've already decided the areas that you want to focus on, now it's time to set your goals. Pick 1 to 2 big picture goals for each focus area.
Step. 4 Write your vision statement.
Now I'm going to get a little Woo Woo on you. In order to write a clear and compelling vision statement, you need to visualize your year. Close your eyes and picture what a successful year looks like.
Ask yourself these questions:
What would you most like to accomplish this year? What do you believe you're capable of achieving given the right circumstances, resources, and motivation?
What brings joy and happiness into your life? What about your work/ career brings you joy and happiness? How can you make space for more of it in your life?
How will you feel when you hit your goals? What will you do to celebrate?
Use your answers to write a short statement that describes how you envision your year. Your vision statement should include an overall description of your ideal year including the things that light your fire, what matters most to you, and what you plan to accomplish.
Once you have your vision statement down on paper, post it where you will see. Say your statement out loud to yourself daily. Use it to help you stay in alignment with the person you see yourself becoming this year.
Remember your vision statement is what you're working towards every day. Be disciplined when making decisions and choosing things that reflect your overall vision.
Step. 5 Create a physical reminder.
The best tool for this is a vision board. Use your vision statement and goals to create a visual of what your year will look like. Include pictures that represent the year ahead.
CONNECT WITH THE SHOW:
Follow @starchasersonly on Instagram
Follow @PimpYourBrilliance on Instagram or #pimpyourbrilliance
Get Show Merchandise- keepchasingthestars.com/shop