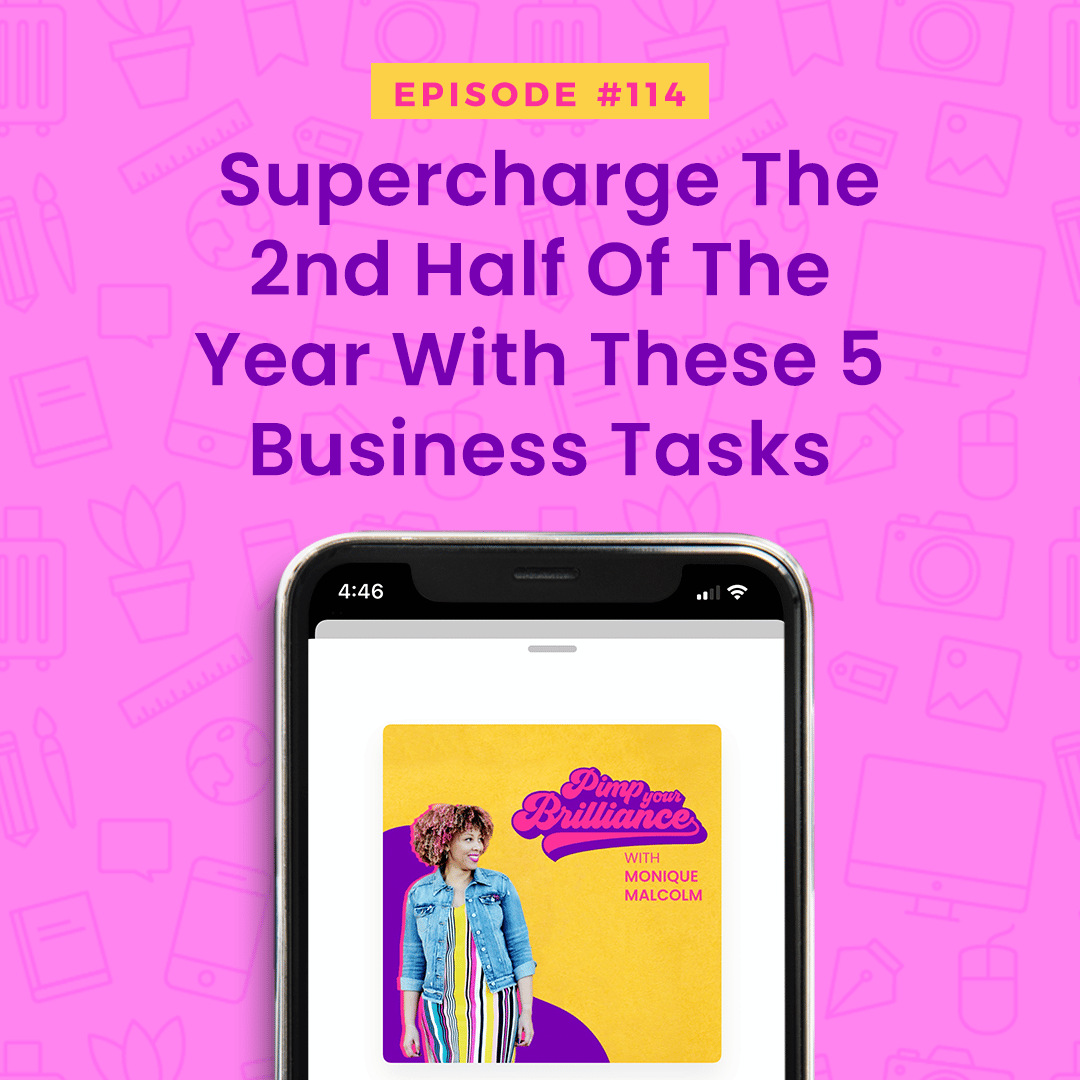 ---
My grandma Coffee and I have this wild belief that time speeds up right after Labor Day. Every year as September inches closer (especially around the end of the July) my grandmother starts threatening to talk with me less because according to her "If we start talking about holidays, it's going to be New Year next week". I always laugh it off but she's not wrong.
Once September ushers in the official end of the Summer, it feels like we are on a sprint to the end of the year. The pressure is on. This is when we feel that renewed sense of enthusiasm and urgency to end the year better than we started. That means trying to crush any lingering goals or figuring out how to salvage the ones that have gone off track.
Not to mention that it's nonstop holiday after holiday. Coupled with the Fall/Winter seasons tempting us to slow down and renew ourselves. No pressure.
In this episode of Pimp Your Brilliance, I'm sharing 5 tasks that will supercharge your creative business for the second half of the year. If you are a solopreneur, it's important that you plan ahead and prepare for the end of the year rush. Seriously, don't wait. Aim to have your plan in place before September begins.
Business Task #1: Review & set new goals.
What goals did you set for your life and business this year? How have they progressed so far? Did you complete any of those goals? For the goals you haven't completed, do they still feel relevant and achievable?
Pull up important metrics for your business and analyze the data. A few areas to look at are:
Money in/out
Website visitors
Email list growth
Social media followers
Look for patterns and opportunities. Where do the numbers look really good? How you can make room for more of that?
Then, you need to decide what your goals are for the remainder of the year. Are there goals that need to be cut completely? Do you need to make adjustments to certain goals to fit them into this year? Maybe you've been crushing things and it's time to set brand new goals.
Your goal is the destination, a plan is what you need to get there. Map out all the possible ways to reach your goals and pick 3 to tackle.
Business Task #2: Lock down all important dates.
What are you doing for the remainder of the year? Are you planning any launches, vacations, or time off? Are there any important events that you plan to participate in like craft shows or vendor fairs?
If so, now is the perfect time to block these dates on your calendar. Plans that aren't scheduled, aren't real. Stay on top of those upcoming dates by setting 30 and 60-day calendar reminders.
Even if you don't have any important upcoming events, it's a good practice to leave some white space on your calendar. Use it as buffer time so you can move at a slightly slower and much less hectic pace. If you fall behind you will feel confident knowing you can make up the time without consequences.
Business Task #3: Take inventory & order supplies.
If you sell physical products, send client gifts, holiday cards, or any other items to surprise and delight your customers, now is the time to take inventory of what you have on hand. During the past year, there have been nonstop supply chain disruptions and material shortages in almost every industry.
Don't wait until the last minute to order what you need because your suppliers may run out of stock or experience shipping delays. Go through all of your products or goods and decide how much you need, then add a little extra. Don't forget to restock packaging supplies like boxes, tape, and tissue paper. This isn't the year to leave anything to chance. Order early.
Business Task #4: Plan for Black Friday & holiday promotions.
The holidays seem far away right now but they have a way of sneaking up on us. The end of the year is quite busy. If you blink you'll be at January 1st. Free up some mental space by planning for Black Friday and other holiday promotions early. Choose which holidays you want to participate in, pick the dates of your promotion, and decide on your special offer.
Be proactive by creating all of your promotional content. This includes themed images, sales emails, landing pages, discount codes, and posts for social media. Once you have everything created, schedule all of your emails and social posts. Then, set a calendar alert to remind you when the promotions go live so that you can keep an eye on them. It's set it but not quite forget.
Spending a few days prepping your holiday promotions in August will help you feel less frazzled during the busiest time of year. Dare I say you might enjoy time with friends and family while making some money.
Business Task # 5: Plan your content calendar for the remainder of the year.
This task piggybacks off of the previous one because it takes your content planning a step further. We are trying to supercharge your creative business so why not plan your content for the remainder of the year?
Your content is a discovery tool for your ideal audience. Think about how your content can help you achieve your goals for the rest of this year. What types of content will you create to help your audience know, like, and trust you?Start generating content ideas that will drive your ideal customers to your products or services.
When planning your editorial calendar, consider your chosen content publishing platforms and posting frequency.
What's your main content platform? Which supporting platforms are you going to use?
How often will you create and post content on them?
This is simple math. If you publish a weekly podcast, count the number of weeks left in the year. That's how many episode ideas you need to come up with. Do the same thing for newsletters and other content that you create.
Social media is a bit more cumbersome because your posting frequency may vary across platforms. Try to come up with a good estimate of how many posts you'll need. This isn't the time to commit to posting daily if you aren't already doing that. Be realistic.
If your content idea well has run dry, experiment with using a monthly theme as the basis of all your content. Again this is simple math. Take your theme and break it up into four different angles.
For example, a monthly theme on time management could turn into podcasts on:
How to plan your week
The number one time management mistake you don't know you're making
Changes I've made to better manage my time
My favorite time management tools
You don't need to batch create all of the content right now. Start assigning 'go live' dates to your content ideas. Then, work backwards to develop a timeline for creating the content. Once you do that, you just have to follow your plan.
We are headed into the most hectic time of year. This is when many solopreneurs and creative business owners are most tired and experience burn out. Completing these 5 tasks before September will supercharge your business and allow for more ease. Don't put them off. Do the work now and reap the benefits for the rest of the year.
Loving this content?!
Be the first to know when new episodes drop by subscribing to Pimp Your Brilliance in your favorite podcast player.
You can also support the show by leaving a podcast review, sharing a screenshot of this episode on your favorite social network, or buying me a coffee over at moniquemalcolm.com/coffee. 
---