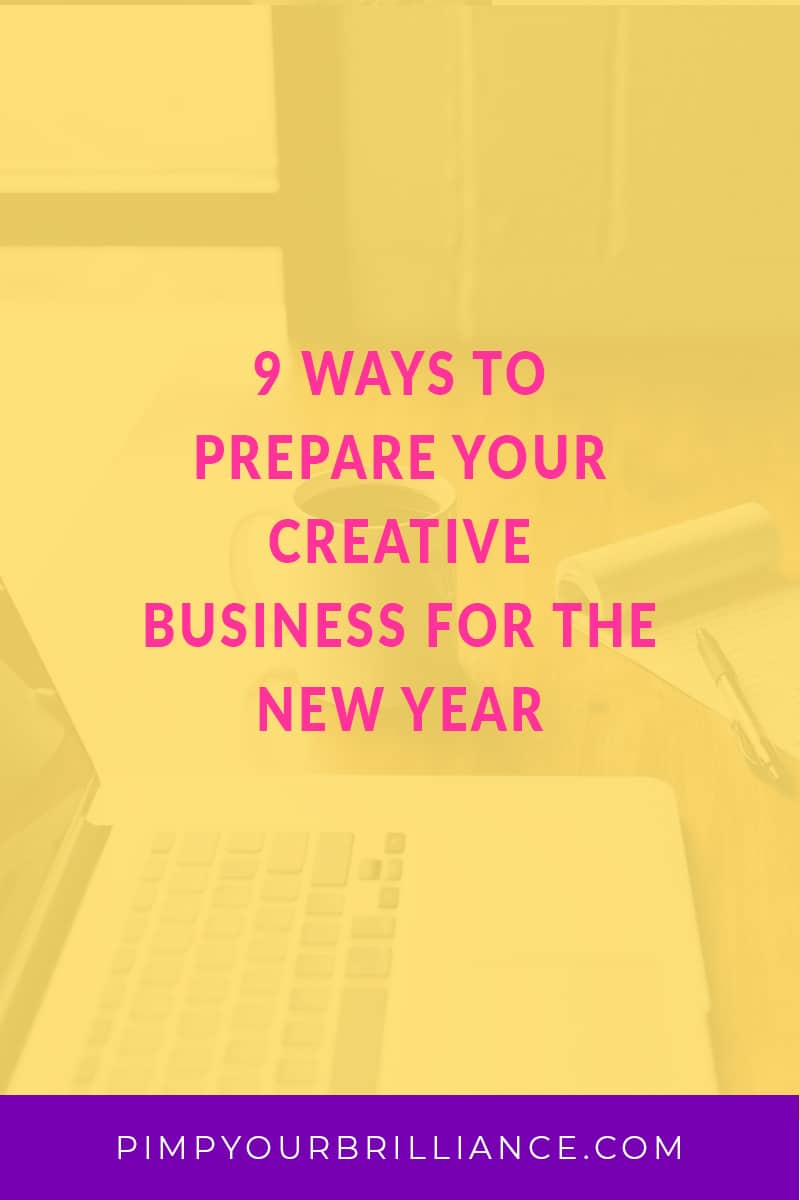 ---
Have you started to prepare your creative business for 2020 yet?
Now that it's November, I've been thinking about how I can prepare my business for the new year in a way that feels manageable. Right now is the perfect time to work on those overlooked tasks like cleaning up and organizing your businesses backend.
In this episode, I'm sharing 9 simple ways to prepare your creative business for the new year. Each of these items is actionable and should take you no longer than 30 to 45 minutes to complete. These are quick wins that will help you organize, streamline and tidy up your business back end so that you feel calmer and more prepared heading into January.
Grab your checklist so that you don't miss a step.
[thrive_leads id='58180′]
9 Ways To Prepare Your Creative Business For The New Year
#1 Clean up digital files and storage
It's so easy to collect digital files but they're clogging up your brain space and computer. Go through your digital folders and delete old opt-ins, organize your cloud storage, and optimize your computer
#2 Retire old offers
Are there products or services that you no longer want to sell? Get rid of them. Listen, I understand that you poured your heart into that offer when you created it two years ago. I get it. But if it's no longer serving you let it go.
Hold a last chance sale. Give that offer a going away date and let your audience know. When the going away date comes, set that offer out to digital pastures.
#3 Send a survey to your audience
Get ahead by asking your people what they want to learn from you. No more guessing or assuming. Send a quick survey with questions tailored to your expertise. Then, sit back and let the answers roll in.
Options to explore:
#4 Do a website audit
Audit
the content, check broken links, set up a 404 pages and redirects,
Links to explore:
Broken Link Check – Will search your site for any broken links so that you can repair them.
Missing Padlock – Checks your site for mixed content and helps you get that coveted security padlock.
Redirects – A quick explanation of redirects and how they work.
#5 Write down all the important dates for your business and add it to your calendar
What are the most important dates to your business? Go through a calendar or visit one of those quirky holiday websites and write them all down. Then, set 30, 60 and 90-day reminders so that you're never caught off guard. This will ensure that you don't forget to plan for important dates.
#6 Clean your email list
If you haven't purged your email list or just tidied up things in the backend, now is the perfect time for you to do that. Remove cold subscribers, get rid of unused tags, archive old forms and update your automations.
#7 Tidy your project management system
Is it me or does your project manager become a dumping ground after a few months? Go through your projects and clean up lingering tasks and archive client projects.
#8 Audit your business expenses
Pull your most recent bank statement and go through all of your business expenses. Is every tool that you're currently paying for necessary. If not, get rid of the tools that you aren't using or shop around for less expensive alternatives.
#9 Create templates for common tasks
This is my favorite tip on this list because doing this once will give you the gift of time all year long. Use templates for your invoices, branded graphics, and content creation. Stop creating them as one-off documents every time you need to post to Twitter or invoice a client. Take back your time and speed up your workflow.
Templates to explore:
Invoice Templates – A great assortment of free invoicing templates that are compatible with Microsoft Office, Google Docs, PDFS and more.
Creative Market – Literally templates for everything from Instagram stories to blog posts.
---
[thrive_leads id='58180′]