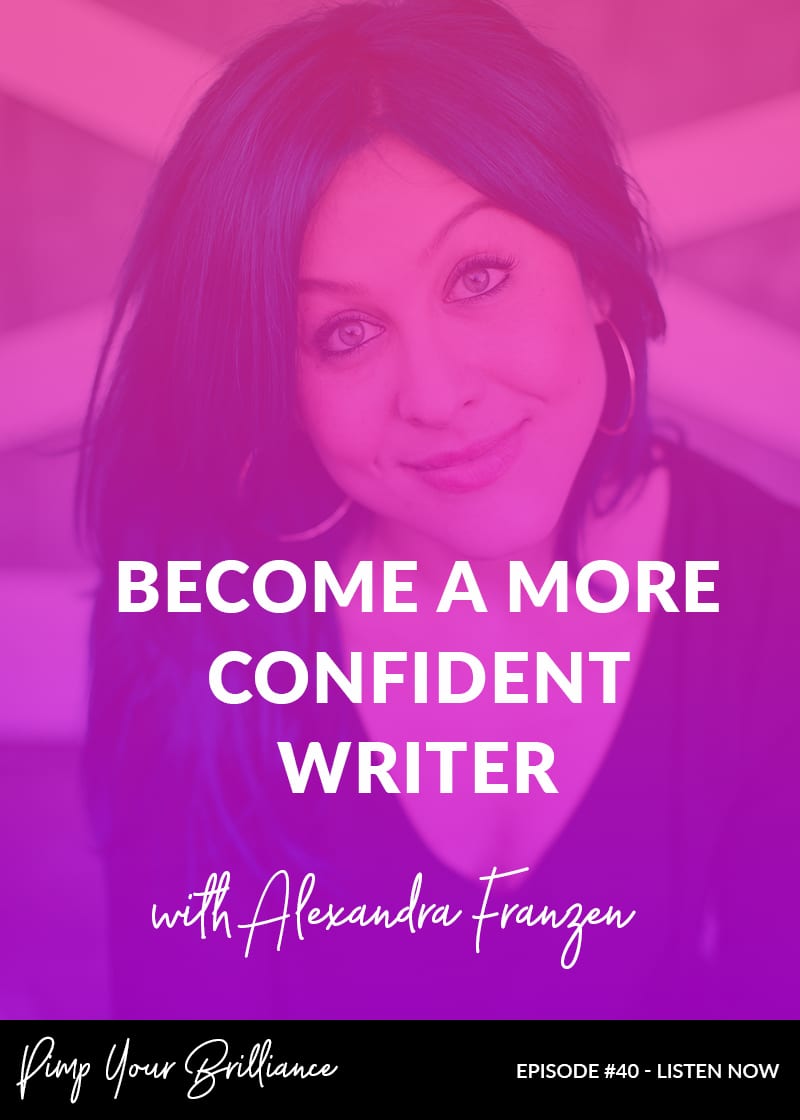 iTunes Google Play Music Stitcher
---
Alexandra Franzen is a copywriter and writing coach, helping clients to develop podcasts, videos, websites, pitches, proposals, books, and other projects. She is also the author of So This Is the End: A Love Story.
Alex writes an amazing newsletter to share inspiring true stories, writing and creativity tips, positivity, encouragement, and motivation to pursue your goals. You should totally sign up!
In this episode of Pimp Your Brilliance, Alex shares how she got started as a writer, growing her business despite not being on social media and 3 ways to be a more confident writer.
BEST MOMENTS:
[7:42] – How Alexandra got her start in writing
[14:46] – Alexandra's first steps after leaving her corporate career
[20:40] – Her creative process
[24:04] – What message do I have to offer?
[28:21] – The Love-Hate Pull of Social Media
[33:16] – How Alexandra stays connected without Social Media
[40:26] – Challenges while running her business
[42:28] – Dealing with the critics
[46:13] – Tips for a perfectionist!
[48:28] – Pimp Your Brilliance Action Challenge
PIMP YOUR BRILLIANCE ACTION CHALLENGE:
Become A More Confident Writer
1. Write about topics that you are genuinely excited about.
2. Write as if you are writing to just one person.
3. As you start to share your writing and begin getting positive feedback, capture it! Take a screenshot, or print it out and create a Love File. Reading that feedback will change your mood.
VALUABLE RESOURCES:
To Read:
So This Is the End: A Love Story by Alexandra Franzen
CONNECT WITH ALEX:
HERE'S HOW TO SUBSCRIBE & REVIEW
Want to be the first to know when new episodes drop? Click here to subscribe in iTunes!
Podcast reviews are the internet equivalent of high-fives. iTunes uses the reviews to help their algorithms rank podcast shows. Basically, the more reviews the merrier. I would be extremely grateful if you took a moment to leave a review.