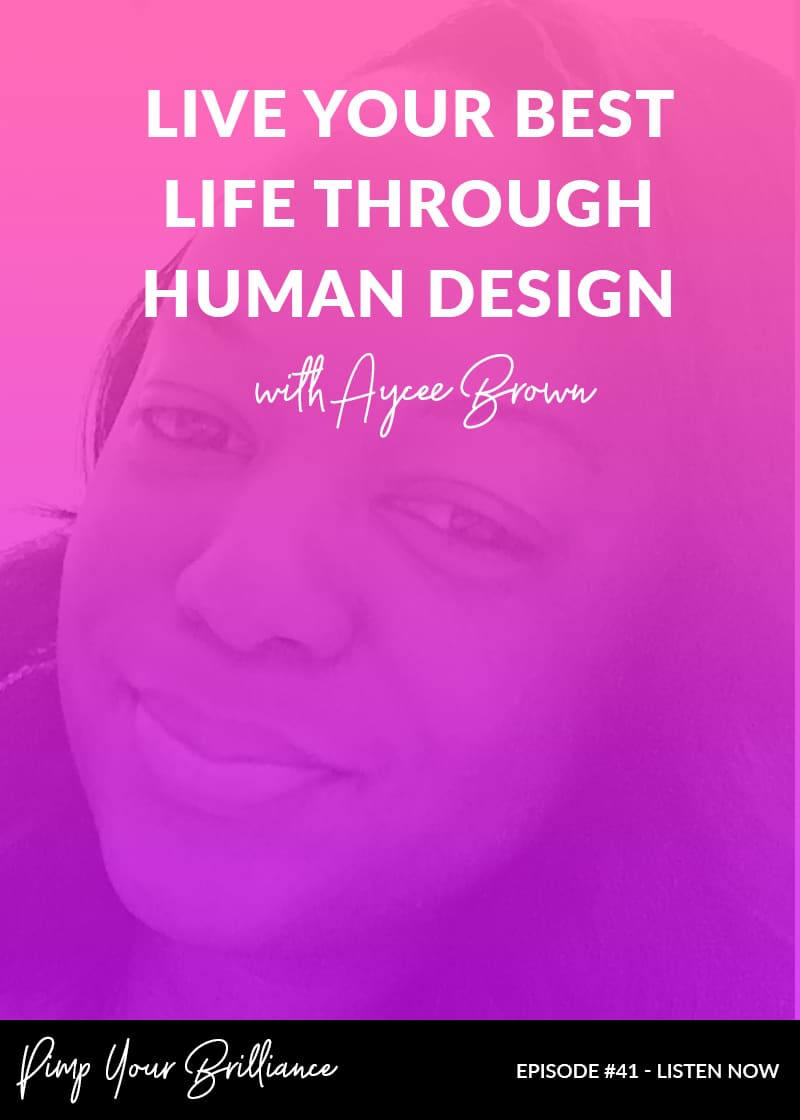 iTunes
Google Play Music
Stitcher
---
Aycee Brown is a Human Design Expert, the founder of Goodnight Darling Co, as well as a life and business strategist who helps people thrive and find financial success based on their aura type. She guides her clients through the process of transitioning from doing life by the book to following their guts in every aspect of living.
In this episode, Aycee introduces us to the concept of Human Design and how you can live your best life by applying your human design strategy.
BEST MOMENTS:
[4:55] – What is human design?
[11:06] – Defining Strategy and Authority
[12:53] – The Aura types
[13:54] – Responding as a Generator or Manifesting Generator
[15:14] – Responding as a Projector
[16:16] – Responding as an Initiator
[16:56] – Responding as a Reflector
[22:02] – What does Aycee see as the intent of Human Design?
[30:00] – Monique's experience with Intuition
[33:23] – How Aycee uses Human Design in her business
[37:11] – Pimp Your Brilliance Action Challenge
PIMP YOUR BRILLIANCE ACTION CHALLENGE:
1. Find your aura type to learn things about your personal strategy.
2. Do some journaling and figure out if you've been following your strategy intuitively.
3. Use your strategy to take yourself to the next level by making better decisions in life.
VALUABLE RESOURCES:
To Read:
The Law of Divine Compensation by Marianne Williamson
To Research:
Jovian Archive (Get your Human Design chart)
Schedule a reading of your Human Design Chart with Aycee
CONNECT WITH AYCEE:
Website | Instagram | Facebook Group
HERE'S HOW TO SUBSCRIBE & REVIEW
Want to be the first to know when new episodes drop? Click here to subscribe in iTunes!
Podcast reviews are the internet equivalent of high-fives. iTunes uses the reviews to help their algorithms rank podcast shows. Basically, the more reviews the merrier. I would be extremely grateful if you took a moment to leave a review.
#PIMPYOURBRILLIANCE
Loving the podcast? Want to connect with other brilliant creative entrepreneurs? I encourage you to use the hashtag #PimpYourBrilliance and show us what you're up to.