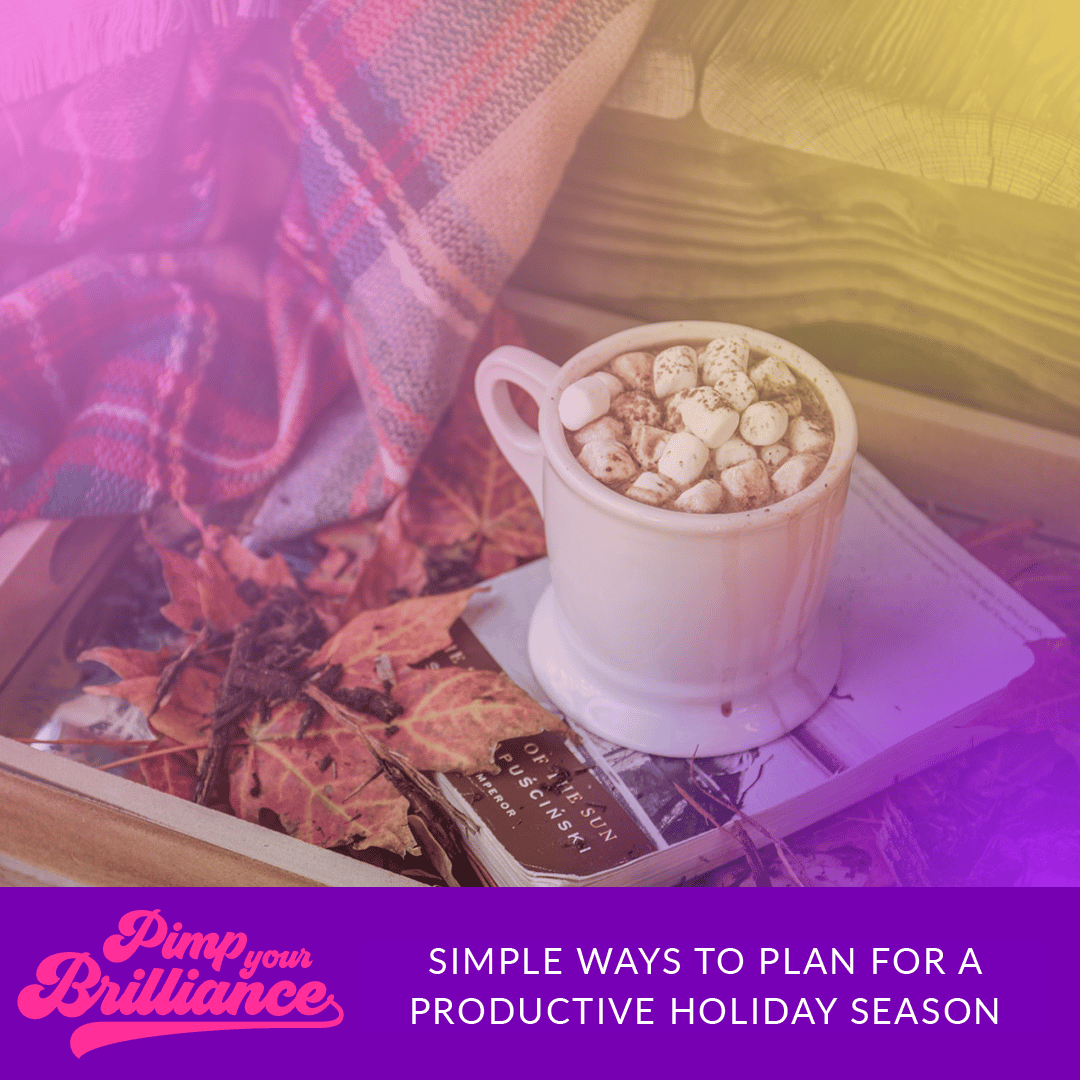 ---
Let's face it, the holiday season can be rough. I start feeling a shift in my energy around October and by the time we make it to November I'm ready to tap out.
I always push through those feelings and try to keep the same pace through December which leaves me exhausted and burnt out come January. This then leads to feeling guilty about not starting the year with a bang.
It's a crazy vicious cycle and I bet I'm not the only person that experiences this.
Unfortunately, a lot of the messaging in creative circles and amongst creative business owners revolves around the holiday hustle. All they are talking about is getting ready for holiday sales and hustling to the end of the year. **Insert thinly-veiled shady quote on Instagram masquerading as helpful advice about preparing for holiday sales**
I get it! We have to make sales. That advice makes practical sense. We need to strike while the iron is hot and the sales are rolling in.
But what if we took a slightly different approach? What if we listened to our own internal queues and aimed to have a productive AND low-stress holiday season?
Simple Ways To Plan A Productive Holiday Season
Today I want to share a few simples ways to survive the holidays while still being productive and stress-free.
This is the Christmas gift that I want. So I'm intentionally planning to make this happen for myself. I don't care what the marketers say! I'll make money and avoid burn out in the process.
This is how I'm intentionally planning to survive the holidays while maintaining my productivity and sanity.
Carve out white space in your calendar.
Don't fill your days with endless work. Block off time in your calendar and leave it unfilled. In my calendar, I've made room to go on vacation with my family for Thanksgiving and spend the entire week after Christmas recharging.
You don't have to have a vacation planned to take advantage of this. Put white space on your calendar and use it as buffer time so you can move at a slightly slower and much less hectic pace. If you fall behind you will feel confident knowing you can make it up without consequences.
Put together an end of year editorial calendar and batch create that content.
Nothing alleviates hustler's guilt like knowing your business is still putting out content even though you've mentally clocked out. Put together an end of the year or holiday editorial calendar of content that you want to put out.
Fill it with things like upcoming sales, newsletters, blog posts, social updates, and podcasts. Get specific!
How many podcast episodes do you need to record for the rest of the year? How many newsletters do you need? When will you announce your sales? What conversations do you want to create on social media? Get an accurate count and start batch creating them. Once you're done you can schedule them to auto post.
Unplug from social media.
Countless studies have been conducted that show the negative effects of being constantly plugged into social media. I promise not to stand on this soapbox too long. Take a day off. Take a week. The length of time is up to you. I just want to encourage you to unplug yourself just a little bit from The Matrix.
Reinforce your mindfulness or stress-reducing habits.
Journal, meditate, breath. Let that be your unofficial holiday season mantra. When things get crazy it's all too easy to let our good habits go.
Make time for play.
Go to your company's holiday party. Attend your nephew's Winter concert. Volunteer to bake pies with your mom. Do not succumb to the pressure of hustler's guilt and feel bad about taking time to step away. All work and no play is the exact recipe for burn out.
The holiday season is supposed to be about enjoying time with people that you love. Accept more invites and resist the urge to work constantly.
Start planning ahead.
Don't get caught on January 1st without an idea of what you want for the coming year. Spend some time thinking and planning ahead. November and December are the perfect times to begin casting a vision for the future.
Start thinking about how you want Q1 to feel. What do you want to create? What will you launch? What goals do you want to reach? You don't have to plan in depth. Just begin laying the foundation.
Cut your expectations in half or suspend them altogether.
I'm actively working on unlearning all of the welling meaning yet poor advice that I have received about success and achievement. All it has done is serve as fuel for my perfectionism.
I want to enjoy the holidays and I can't do that constantly checking my email or Instagram. So I've trimmed back my expectations by 50%. Will I achieve every unfinished goal on my list by the time 2019 rolls around? Nope! And I'm okay with that.
You don't have to participate in the holiday hustle is you don't want to. Follow your energy and natural patterns. If your creative energy is seeking rest, adjust your expectations and intentionally plan for that.
Have you started thinking about the holidays? How are you planning to stay productive?