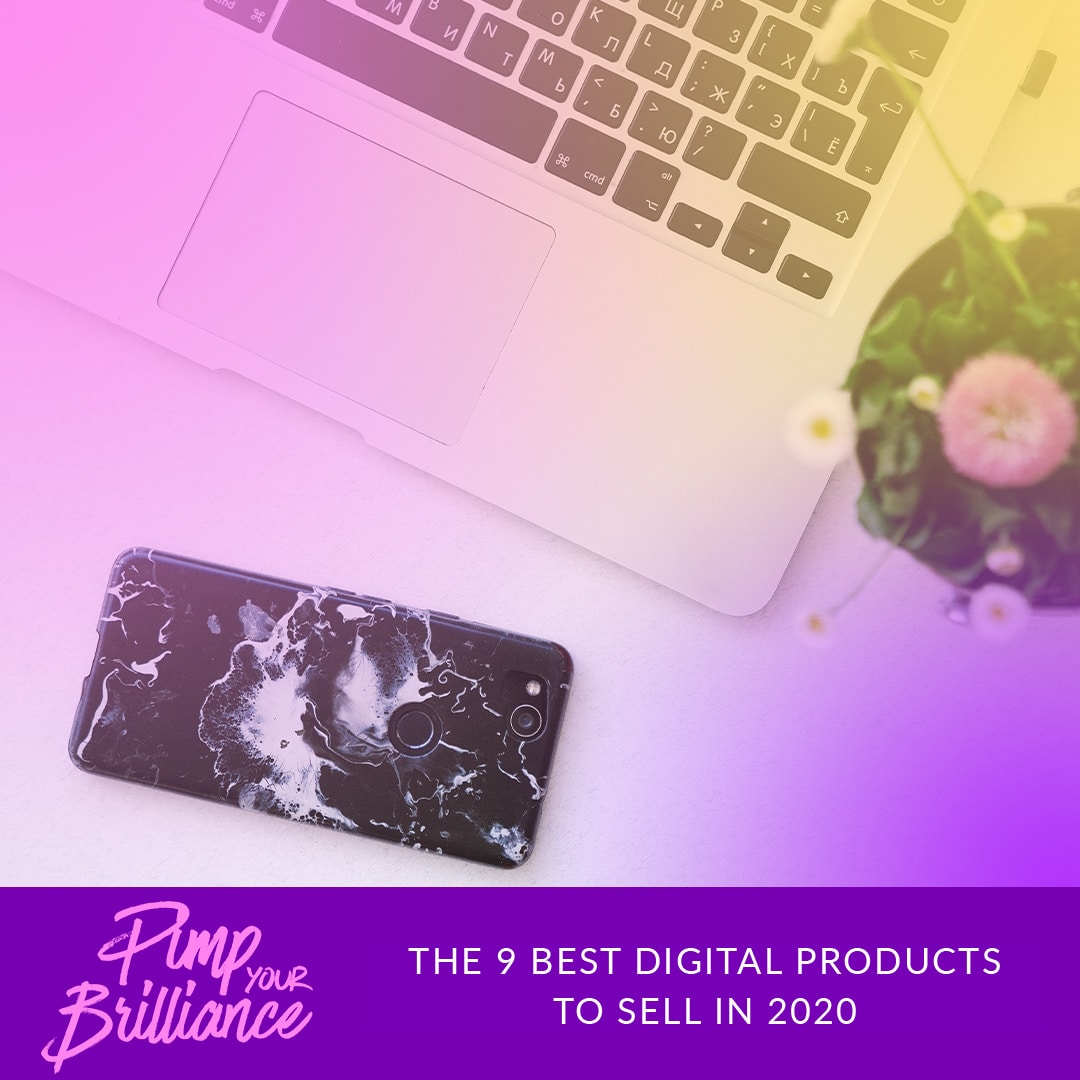 ---
What are digital products? A digital product is any product sold online that doesn't have a physical form.
They don't get shipped or arrive in your mailbox. The transaction happens purely in the digital space whether on your computer, tablet or phone.
Digital product sales continue to gain popularity amongst creative entrepreneurs because there's a lower barrier to entry and they're easier to produce than physical products.
Why Should I Sell Digital Products?
Information sells! Everyone is looking for ways to save time while getting the best results.
If that isn't convincing enough. A few other reasons why you should sell digital products:
They are easy to distribute and require very little overhead costs. No inventory to pack, ship or manage.
They are a great source of passive income. You create it once and sell it infinitely.
Diversify your revenue streams. This is the millennial version of not putting all of your eggs in the same basket.
There are very few start-up costs or risks involved other than losing time.
If you're just getting started as a blogger, podcaster or a content creator, I think selling digital products is one of the best ways to generate an income online.
The Best Digital Products To Sell
There are many different types of digital products that you can create and sell. Many of them can be used in any industry or niche. Here are my 9 top picks for the best digital products to sell in 2020.
1. Ebooks
Ebooks have been around for a while and they aren't going anywhere. They are the most popular digital product and experts expect them to eventually outsell physical books.
One of the reasons ebooks are so popular amongst creative entrepreneurs is because they are fairly simple to create. They mainly require text, a few pictures, and a computer. Ebooks are a great way to dip your toe into digital product creation.
2. Digital Planners & Stickers
The popularity of planners has spilled over into the virtual realm and with it comes the rise of digital planners. Digital planners are growing in popularity amongst iPad users thanks to styluses like the Apple Pencil.
Digital planners function very similarly to physical planners which include cover design, weekly spreads, and even clickable tabbed sections. If you have an eye for design, you definitely might want to give digital planners a try.
3. Templates
Most people are looking to save time and that's where templates come in. You can create and sell templates for a variety of things.
A few examples:
IG photo templates
Resumes
Media kits
Workbooks
Logos
If you don't want to host your own online shop, templates do very well on marketplace sites like Creative Market and Envato.
4. Swipe Files
A swipe file is a document that contains tested and proven assets for achieving a particular goal. If you have an area of expertise, you can sell your secrets in a swipe file. They aren't just for the business niche. Swipe files can contain anything.
Examples of swipe files include email sales funnels and website copy.
5. Courses
You knew courses would make the list, right? Courses are a great information-based digital product. Most of the big-name marketers sell courses. They are more popular than ever!
Many creatives believe you need to sell a big signature course to make money with courses and that's not true. I've seen a lot of success selling smaller courses that deliver a very specific result. I actually think this is a smarter strategy because the majority of course buyers don't finish them.
6. Printables
Printables have become popular amongst the crafters and people who want to be more organized. There are many free and low-cost tools to help you design your printables. You can create printable planners, games (like baby shower bingo), chore charts and budget binders. The possibilities are endless.
7. Patterns
Patterns are another digital product popular in crafty circles. People are always looking for a fresh take on the things you make. If you sell handmade items, you can try selling the pattern as a passive income stream while allowing your customers to make the items themselves. Examples of patterns include doll clothing, crochet designs, cross-stitch, and knitting.
8. Stock Photos
The perfect photo for your blog post can be hard to find. That is what's driving the demand for premium high-quality stock photography. If you're a photographer, try your hand selling your photos at stock photography sites like Stocksy, Fotolia, or CreateHer Stock.
Another way to sell photos is through your own website as a one-off or with a subscription. Either way as the drive for better content continues, so does the need for amazing photos.
9. Memberships
Memberships provide exclusive access to content, resources or members-only areas of your website for a monthly fee. They work well for a variety of niches like business, wellness, and crafting. They're also an excellent source of recurring revenue.
Have you checked out the Brilliance Lounge membership for content creators?
Memberships can be low tech consisting of just a private Facebook group and live monthly calls, but they can also be pretty involved. Even though the revenue opportunity is there, they aren't the easiest place to start if you're interested in monetizing with digital products.
What digital products have you created? What products are you planning to create in the future?