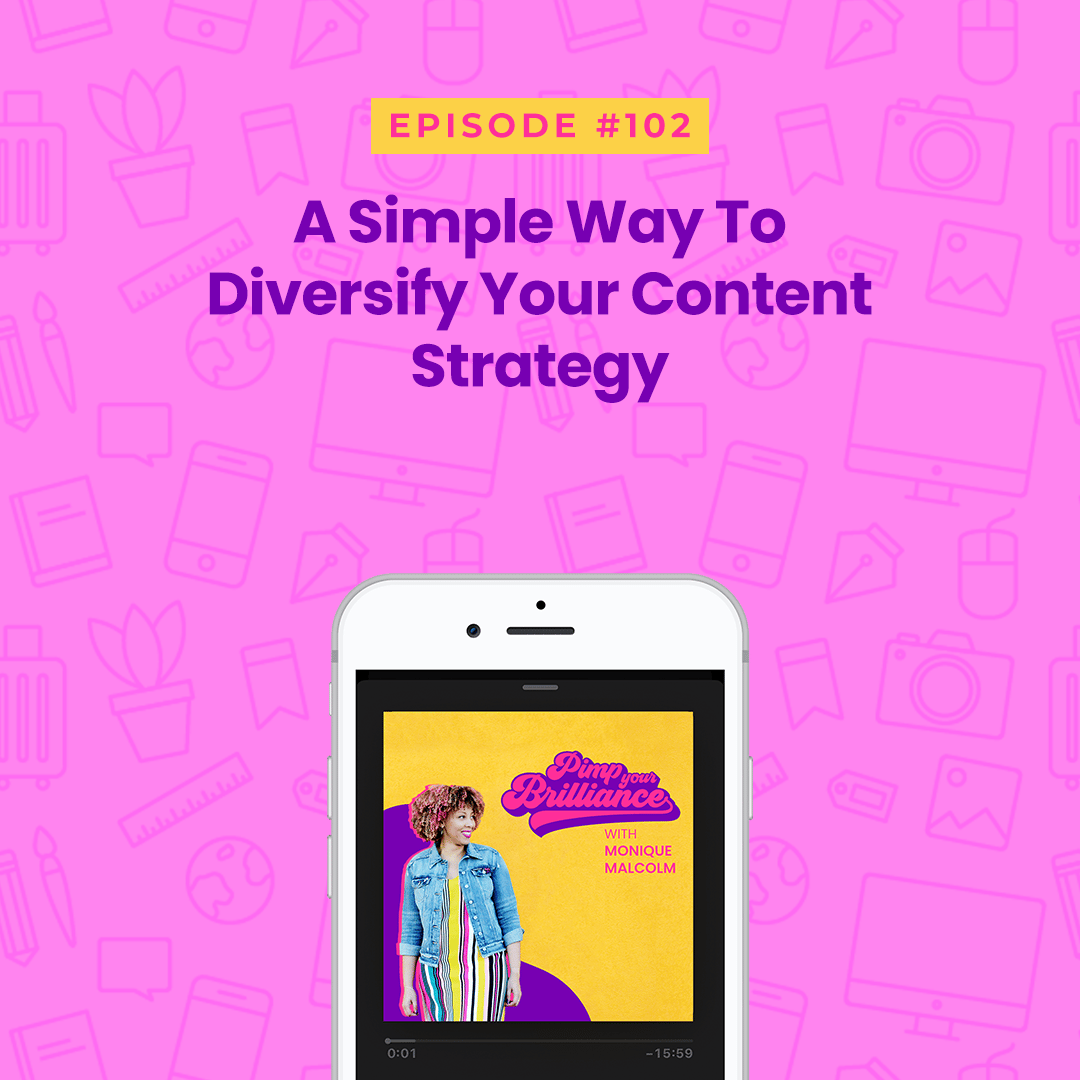 ---
Are you still struggling to create an effective content strategy for your creative business?
Most creative business owners and coaches are operating without a clear or effective content strategy. They create content for the sake of having something to post versus focusing on ways that their content can help them reach their goals.
The online world is extremely noisy and it's only getting louder. If you're looking for a way to stand out amongst the masses of creators, business owners, and coaches your content strategy is your edge.
In this episode, I'm talking about content strategy, what it is, why you need, and how I use my content cake framework to build a strategy for my business.
What is a content strategy?
Content Strategy is a systematic way that you use various mediums (written, video, audio) and platforms to share your brand's message to achieve a specific result.
In simpler terms, your content strategy is how you let people know what you do, why you do it, and that you have a solution to their problems. Your content does the heavy lifting of educating and informing your audience of their need for your product. Sounds pretty powerful, right?
Here are a few reasons why your content is so important:
Your content informs people of your expertise.
If you want people to view you as the 'go to' person in your niche don't hold back the information that you have to share. Deliver real value to your audience by sharing your best content.
Be clever. Share actionable tips and tricks that have helped you. Create the very best resources to share with your audience and you'll gain a reputation for being knowledgeable and helpful.
Your content moves people along the customer journey.
People buy from people who they like, know and trust. This is an indisputable fact. If your content has proven to them that you're knowledgeable, trustworthy and that you can deliver what your sales page has promised, your clients will loosen the grip on their wallets.
Your content helps you attract your ideal clients.
You've got an ideal client avatar written up, right? I bet after you finished writing it you wondered, "How am I going to find this person?".
The answer is simple, they're going to find you through your content. If you've narrowed in on the right person, you know which topics your audience will find useful. Creating the right content makes it easier for them to find you when they are researching those topics.
Why You Need To Diversify Your Content Strategy
As much as I love social media, it has major drawbacks. The constant algorithm changes and diminishing amount of visibility that new posts receive make it feel like a losing game. Social networks have all of the control and your only real choice is to play the game or not participate at all.
This is a growing problem because most business owners focus too heavily on social media while ignoring their online real estate (aka your website). Their strategy is not diversified. It's actually too dependent on appealing to the social media gods.
If your content strategy is meant to help your audience find you, that means you have to use varied content types and publishing mediums to meet the needs of different segments of your audience.
In general, you'll find two types of people browsing online, focused browsers and distracted browsers.
Focused Browsers
Focused browsers are people searching for an answer to a question or a solution to a problem.
For example, a focused browser may be searching for the closest pet groomer or might want to know how to start a podcast.
Focused browsers can usually be found on search engines like Google, Bing, and Yahoo. More savvy browsers will probably head over to YouTube or Pinterest for answers.
Since focused browsers will normally find your content via search engines, you can attract them by creating specific, well thought out, and high value long-form content.
Long-form content is content that offers a great depth of information on a given topic or subject. Content like blog posts, videos, and podcasts are examples of long-form content.
Search engines love long-form content and give it higher priority in search engine listings. This means a few good pieces of high quality content can drive traffic to your website.
A solid SEO strategy paired with long-form content can turn into a passive stream of traffic. Which means you'll still attract focused browsers even if you're not consistently creating new content.
Distracted Browsers
Distracted browsers are the complete opposite of focused browsers. They are people who are scrolling online not looking for anything specific. They usually want to be entertained and are seeking a distraction. Queue endless Instagram scrolling.
Distracted browsers can be found in all corners of the internet but most of them hang out on social networks like Instagram, Tik Tok, and Twitter.
Since they aren't searching for anything specific, it takes more effort to get them to leave the platform. Your tactics to get their attention should focus on making them stop scrolling. The best way to disrupt their scroll session is with micro content.
Micro content is written copy, imagery or video content that can be consumed in 10-30 seconds.
Your micro content needs to inform, connect, educate, or entertain to get the attention of distracted browsers and make them take the next step.
Great content paired with a strong call to action helps to lure people away from scrolling and to clicking thru to your website.
Diversify Your Content Strategy By Building A Content Cake
So which type of content is better? Long-form or micro?
Micro content is great for quick discovery and short term traffic boosts. While long form content is necessary for showing up in search engine results and building authority.
Both have a place in a well rounded and diversified content strategy. The challenge is finding a balance between creating micro and long-form content.
And I have just the trick for that. You need to build a content cake.
You're probably wondering what cake has to do with content strategy? Just hear me out. It will all make sense.
Content cake is a metaphor for my simple and effective content strategy. The same strategy that helps me produce content that attracts the right people, nurture, and convert them to buyers.
Here's how to build your own content cake:
Part 1 of the Content Cake: Foundational Articles aka Cake Layers
Every good cake starts with delicious cake layers because without them you won't have a solid foundation to build on. The same thing goes for your content strategy. You need foundational articles to build the rest of your strategy on.
Foundation articles are 5-10 written pieces of content related to your niche and audience. Over time, these articles will attract your ideal audience via search engine traffic.
As I mentioned earlier, it's your content that helps your ideal audience find you online. So every foundation article needs to focus on solving a problem or resolving a challenge for your audience. This is marketing 101.
Your audience is out there searching for answers and your goal is to answer those questions in your foundational articles.
If you're in need of some ideas for your foundation articles, a few good places to start are:
Answer The Public
Quora
Google Search Autocomplete
Part 2 of the Content Cake: Email aka Frosting
Yellow cake is delicious but do you know how to make it next level? You add frosting.
Email is your frosting.
Having people read your foundational articles is great but you want them to take the next step to learn more about your business and what you have to offer. Email is how you deepen the relationship.
People buy from people who they know, like, and trust. Sending email consistently is a great way to build up that trust factor.
The other great benefit of email is that it's permission-based marketing meaning audience members who opt-in to receive emails from you have agreed to be marketed too.
This is why email needs to be a part of your content strategy. You can deliver value and sell to your audience.
If you need ideas for the types of emails you can send, go back to episode 90. In episode 91, I shared 4 email sequences that your creative business should have.
Just a heads up, as text marketing gains steam, you may be able to build the same like, know, and trust with text messages instead of email.
Part 3 of the Content Cake: Social Media aka Sprinkles
Social media is your sprinkles.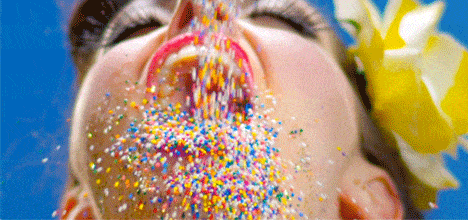 Everybody loves sprinkles because sprinkles are fun. They're tiny, colorful, and make every cake feel festive. But you don't build a cake with sprinkles first, so why would you do that with your content strategy?
This is what most creative business owners get wrong, they are too focused on the sprinkles. They skip the foundation articles, neglect their email list, and run over to Tik Tok to shimmy and point at words on the screen.
Social media like sprinkles come last. If you did a good job with the rest of your content strategy, you won't need to be a slave to social media to reach your goals.
Your foundation articles and newsletter content can be broken down into micro content to fill your social media queue. This is great because you're getting more mileage out of the content you've already created.
One foundational article can be turned into quote graphics, Instagram carousels, topics for live streams, or Twitter threads.
The bottom line is that social media is a lot of work for diminishing returns but with a smart strategy in place you'll look like a pro in all of the places your audience finds you.
Don't sleep on the power of a good content strategy. It's the most effective way to standout out in the noisy online space.
I'm curious to know do you have a content strategy to get the word out about your business? Talk to me in the comments about it. If not, what's stopping you from creating one?
---
Pin This: