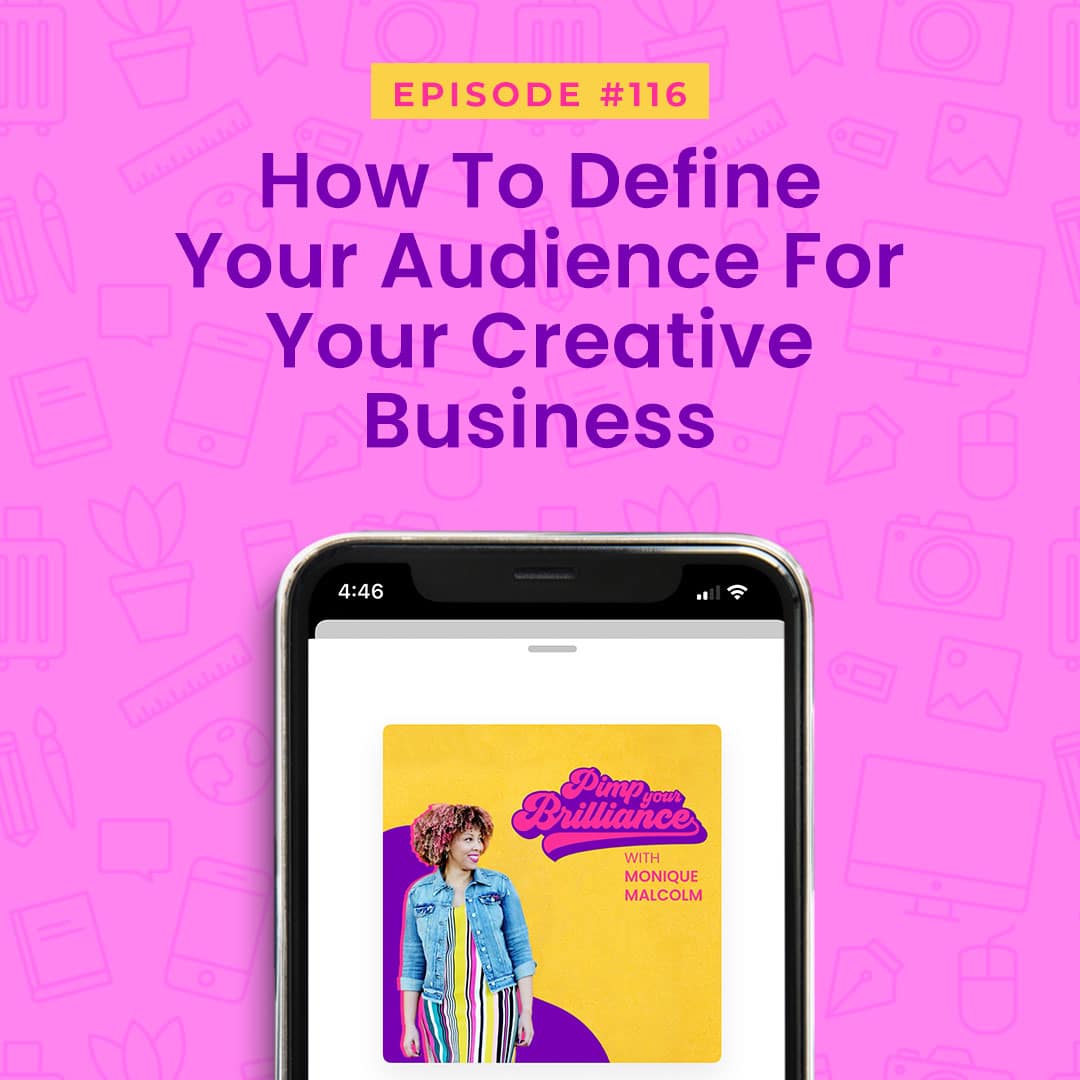 ---
This episode is a part of the Brilliant Biz Bootcamp💡 podcast series designed to teach you a concept that is essential in monetizing your creative business. Each episode features a companion resource for further exploration. You can gain access to the resources by entering your email address below. 👇🏽👇🏽[convertkit form=2532175]
Today I'm excited to kick off a new 4-week podcast series called Brilliant Biz Bootcamp. First up on your syllabus… learning how to define your audience.📝
Everything you do in your business comes back to your audience. As a matter of fact, having a clearly defined audience sets the foundation for your business to be successful.
Defining your audience helps you…
Create content that attracts your ideal customers
Develop products or services that speak to their pain points
The more generic and broad your audience is, the harder it will be to attract your ideal customers and show that your business is the right one for them.
This is where a lot of creators get stuck. They want to cast a wide net with their audience and believe that focusing on a specific group of people leaves too many others out. This is completely false and a big mistake!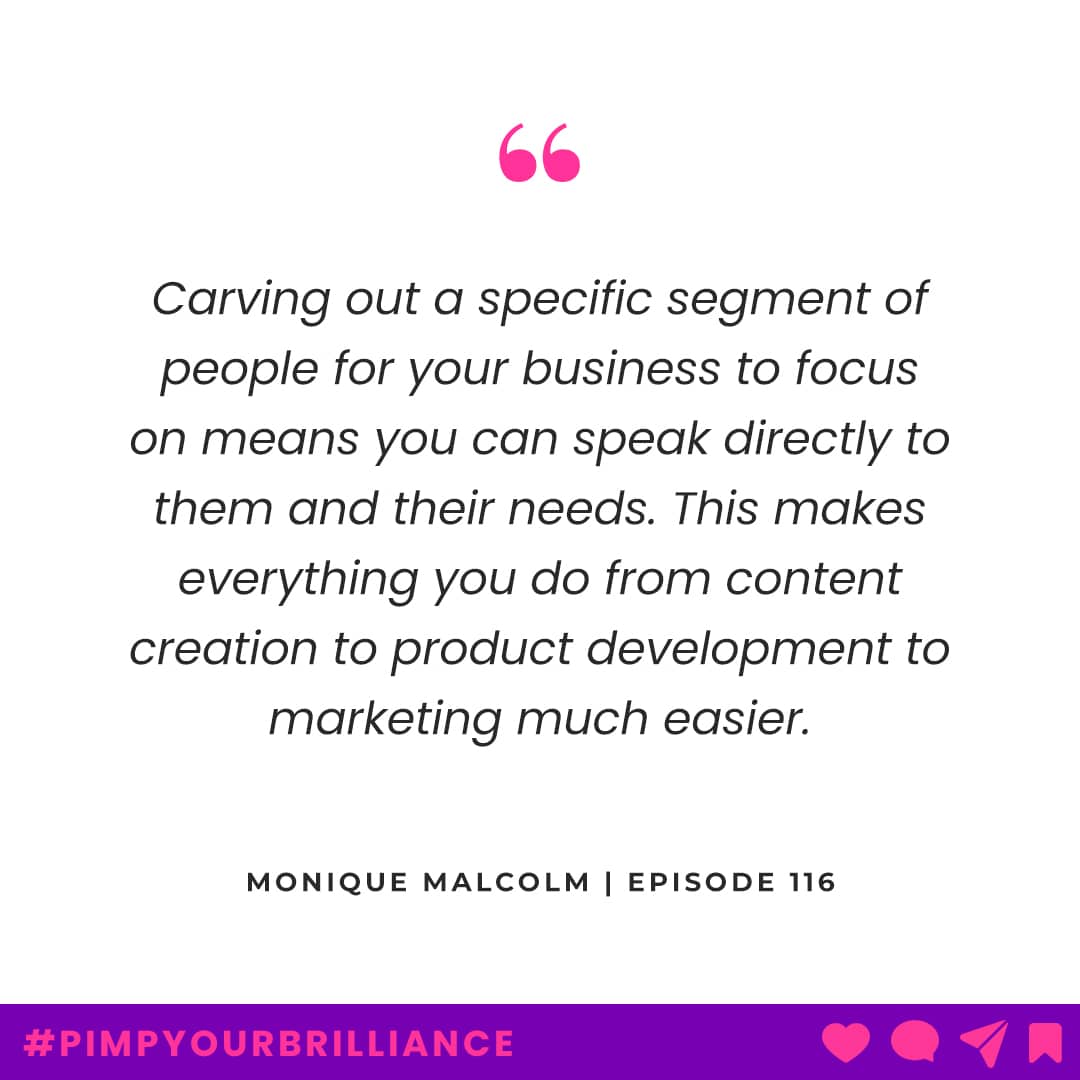 Instead you need to get specific about who you're targeting by defining your audience demographics.
There are plenty of activities designed to help you define your audience, but we are going to keep things simple and focus on someone you know. If you've worked with people one-to-one (even in a nonpaid capacity) or have an existing audience you've been engaged with, this will be even easier.
Take a moment and think of a person you know who is starting out on the journey that you want to help with. This should be a real person.
Got someone in mind? Great! Choosing someone that you know gives you a realistic starting point.
Write their name down. Think about why this person came to mind. What makes them an ideal audience member?
Now think about the demographics of the person you chose and fill in the details.
Basic demographics:
Age?
Gender they identify with?
Where do they live?
What's their income level?
Family status?
Education level?
What do they do for work?
Once you have the basic demographics filled in, move on to the psychographic details of this person. Psychographic details help you understand the feelings, values, interests, and lifestyle choices of your audience. This might include their habits, hobbies, or spending habits.
Psychographic Details:
What circumstances affect the way they live or work?
What do they care about?
What values do they have?
What are their interests or hobbies?
How does this person spend their days? Weekends?
Pro tip: it's okay if you can't answer all of these questions right away. Make your best guess based on the information that you have. You can always survey your existing audience to get more information.
Take all of the information that you have and use it to create a snapshot of your audience. This becomes your ideal audience.
Example of my ideal audience: Women, 32-45 years old, solopreneurs in year 0 to 3 of running their business, and passionate about creativity, helping others, and achieving financial independence
Take it a step further by identifying what your audience needs your help with.
Chances are your audience has plenty of problems and challenges. We all do. It's a part of the human experience. We are complex beings.
You alone can't solve all of your audience's problems. That's not a knock on your capabilities. It would be overwhelming to try.
Instead, think of all the things your audience needs help with and pick 1-3 things to focus on. That's it!
You are trying to help your audience get from point A to B not A to Z. Leave the rest of the problems to someone else.
Now that you have your ideal audience, think about what that person needs.
A few questions to explore:
What dreams do they have for their life?
What are their struggles?
What are they searching for online?
What information would help them reach their goals?
What is the problem?
Why haven't they fixed this problem on their own? What are they missing?
What outcomes are they looking to achieve?
Use those questions to help you identify the 1-3 challenges that your audience is currently struggling with.
Get even more specific by writing an audience persona.
An audience persona is a fictional profile of a "person" representing your ideal audience. It differs from your ideal audience because it hones in on one specific person versus a broad snapshot of your audience.
Take the information that you've gathered so far, build out a profile of this person, and write a short story about them. Include details about their demographics, challenges, dreams, and the outcomes they want.
Audience Persona example: Melissa, 35, teacher moonlighting as a content creator. She has a blog and YouTube channel where she posts helpful tutorials and tips about content marketing and SEO. Because of her limited time and a full schedule, Melissa doesn't have time to consume lengthy resources or courses. She wants to learn as much as she can but needs short and actionable resources. As a content creator, she cares about consistency and building her business in a way that doesn't take away from living her life. Likes to read, enjoy a nice beer, and work out in her free time.
Try to drill down your ideal audience as much as you can. You want your audience to know without a shadow of a doubt that your business is speaking to them.
Remember: you don't need to know every detail about your ideal audience but you need something to point you in the right direction. You will refine your profile over time so make sure you save this document to come back to and update.
Also, it's very likely that your business might appeal to people outside of your ideal audience. That's perfectly fine. Most businesses have several audience personas. For now, you need to identify just one to keep your audience focused.
Have you defined your ideal audience yet? What did you learn about them in the process? Share in the comments below.
---
[convertkit form=2530572]
---
Pin This 👇🏽