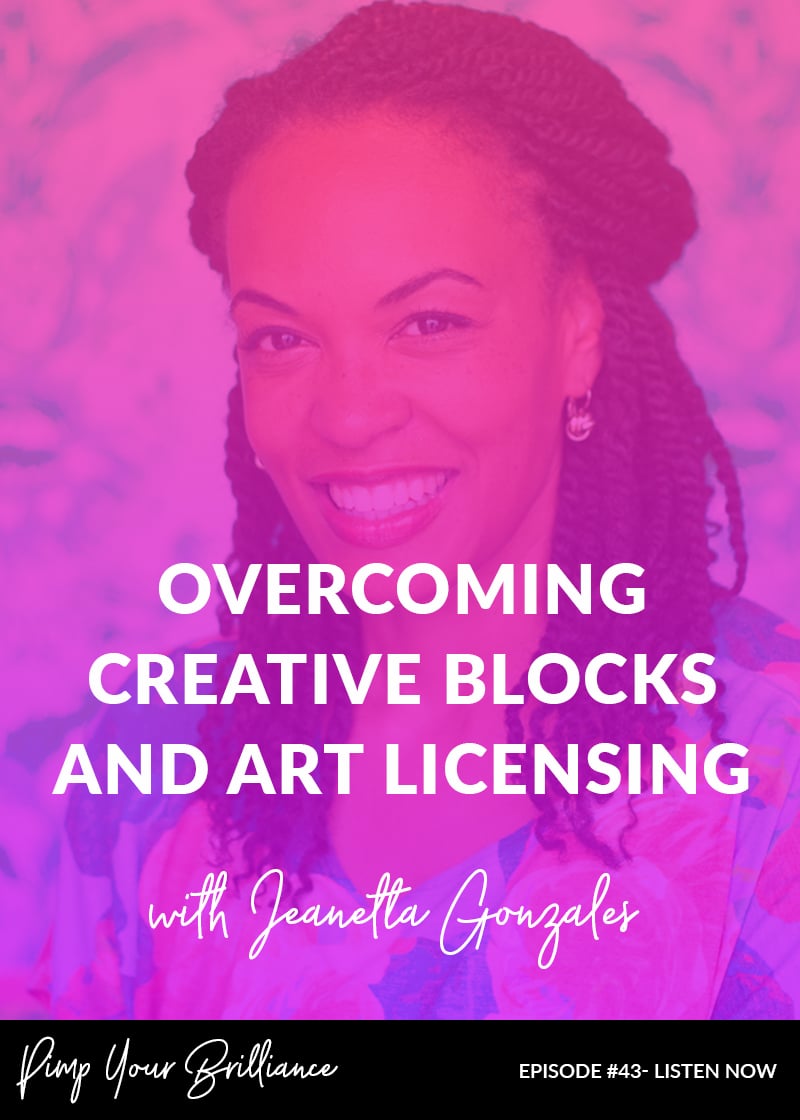 iTunes
Google Play Music
Stitcher
---
Jeanetta Gonzales is a Los Angeles-based designer and artist. A lover of pattern, color, and design she works as a surface designer, graphic designer, and illustrator. With degrees in fine art and graphic design, she began her career as a graphic designer working in design firms and corporate companies such as WedMD, Mattel and The Disney Store. She later parlayed her digital and fine art skills into surface design working as a textile designer and style guide designer for consumer products.
In this episode, Jeanetta shares how she got started as a graphic designer after obtaining a degree in fine art, how to overcome creative blocks and 3 ways to get started with art licensing.
BEST MOMENTS:
[3:13] – How Jeanetta started to find her point of view as an artist
[8:38] – Ways Jeanetta makes money besides art licensing
[14:40] – How Jeanetta refuels her creativity and her inspiration
[17:38] – How to deal with creative blocks
[20:58] – Dealing with grief and managing work
[30:10] – Mistakes Jeanetta has made or current challenges
[43:10] – Pimp Your Brilliance Action Challenge
PIMP YOUR BRILLIANCE ACTION CHALLENGE:
1. Think about where you'd like to see your art in stores (what products you'd like to see your work on).
2. Research companies you'd like to work with and reach out to them.
3. Start making presentations.
VALUABLE RESOURCES:
To Read:
The Power of Joy: A Straight Up Guide to Lasting Freedom, Effortless Abundance, and a Limitless Life by Nick Breau
CONNECT WITH JEANETTA:
Website | Instagram | Facebook
HERE'S HOW TO SUBSCRIBE & REVIEW
Want to be the first to know when new episodes drop? Click here to subscribe in iTunes!
Podcast reviews are the internet equivalent of high-fives. iTunes uses the reviews to help their algorithms rank podcast shows. Basically, the more reviews the merrier. I would be extremely grateful if you took a moment to leave a review.
#PIMPYOURBRILLIANCE
Loving the podcast? Want to connect with other brilliant creative entrepreneurs? I encourage you to use the hashtag #PimpYourBrilliance and show us what you're up to.