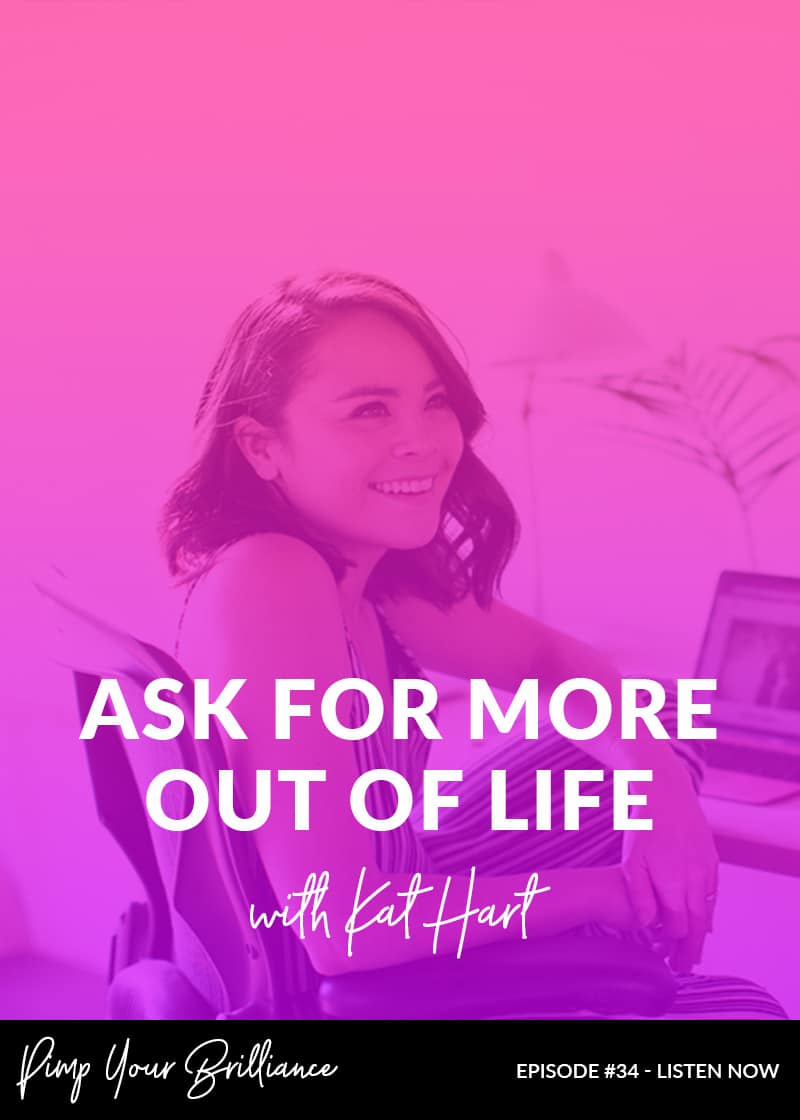 LISTEN!
iTunes
Google Play Music
Stitcher
---
Kathlyn Hart is a salary negotiation coach and a motivational speaker who supports ambitious women to dream big, live boldly and earn more. Through her salary negotiation boot camp Be Brave Get Paid, which has helped women increase their income by an average of $15,000. She teaches underpaid women how to confidently own their worth and ask for more. Kathlyn is also the host of The Big Leap Show podcast, where she interviews entrepreneurial women about their journey from dreaming to doing.
In this episode of Pimp Your Brilliance, Kat shares how she quit her job to travel the world, why women should be negotiating their salaries, and 3 steps to ask for more out of life.
BEST MOMENTS:
[4:58] – How Kat got started and gained control over her own money
[8:34] – Why she decided to quit her job
[13:42] – Kat shares her experiences of taking silent retreats
[15:00] – Why women aren't negotiating their salaries
[18:56] – When should you start the negotiating process
[23:32] – How to figure out where to start and what to charge
[29:12] – Shifting your perspective of your full-time job if you're looking to become an entrepreneur
[31:06] – Some of the challenges Kat has faced with her business
[34:24] – Deciding which discomfort you want to live with
[39:56] – Pimp Your Brilliance Action Challenge
PIMP YOUR BRILLIANCE ACTION CHALLENGE:
Allow yourself to dream more.

Don't negotiate against yourself before the negotiation ever takes place.

Embrace rejection.
VALUABLE RESOURCES:
Kat is currently on an inspiration detox from reading but recommends watching shows produced by and starring strong women: The Sinner (Jessica Biel), Big Little Lies (Reese Witherspoon) and The Handmaid's Tale.
CONNECT WITH KAT:
Website | Instagram | Text "BEBRAVEGETPAID" to 44222 to get Kat's top salary negotiation scripts
HERE'S HOW TO SUBSCRIBE & REVIEW
Want to be the first to know when new episodes drop? Click here to subscribe in iTunes!
Podcast reviews are the internet equivalent of high-fives. iTunes uses the reviews to help their algorithms rank podcast shows. I would be extremely grateful if you took a moment to leave a review.
#PIMPYOURBRILLIANCE
Loving the podcast? Want to connect with other brilliant creative entrepreneurs? I encourage you to use the hashtag #PimpYourBrilliance and show us what you're up to.