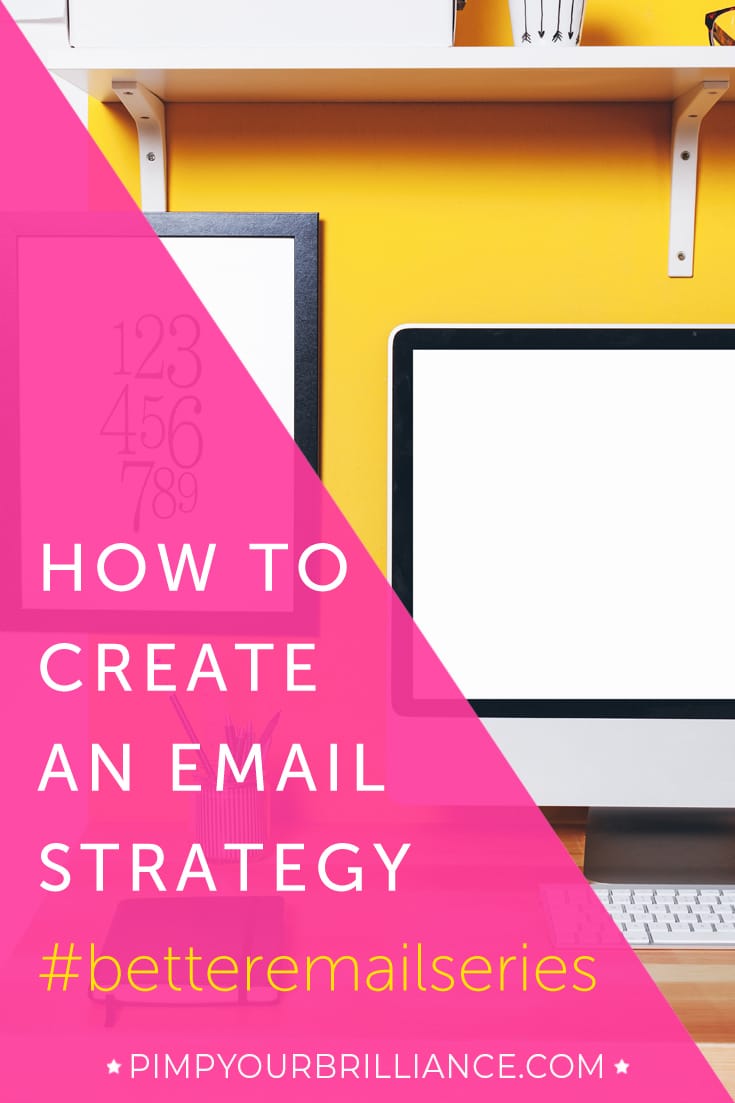 In the previous post, I dished about email marketing basics, the phases of an email strategy and the types of emails you can send. If you haven't read it I suggest you start there. Today we are talking about creating an email strategy friends.
Developing your email content strategy isn't dramatically different from creating a blog or social media content strategy, but this is the step that most businesses get hung up on. I promise that you are just overthinking it because you are already creating content. Any information that you put online counts as content, that could be photos, videos, social media bios, etc. It's all content. And yes nonbusiness things that you post publicly totally count as content too.
Building relationships with potential customers depends on your ability to create content that resonates with them. Your ideal people want to see and interact with your content.
[bctt tweet="Your ideal people want to see and interact with your content."]
Your email content strategy should do these things:
Show that you are the right person for the job. (Can you help solve my problem?)
Showcase available products and services. (Do you sell a solution to my problem?)
Show your expertise. (Do you know what you're talking about?)
You don't have to hit all three with every email that you send but over time your subscribers should be able to answer those questions.
Now it's time for the million dollar question, "What should I be sending to my subscribers?". Content that fills their needs (You really need to know your customers). I realize my answer is a little vague so let me illustrate this by showing you actual newsletters. Below are two examples of brands that do email marketing well.
Example #1
First up is my girl Regina of byregina.com. This woman is a powerhouse of useful content. She's constantly sending free e-books, worksheets and webinar invitations to her list. Her emails are also full of actionable tips and advice that her subscribers can start to apply now. Did I mention that you receive all of this stellar content for free?
At this point, you are probably wondering, "How does she make money if she's sending all of this awesome content for free?" Regina has mastered the art of soft selling. She offers tons of free information while letting her subscribers know that she has more in-depth classes and workbooks available to purchase. Her free email content serves as a gateway to her premium offers. If you want to see this in action I suggest you check out this email message.
Example #2
My second example comes from Caroline of madevibrant.com. Her approach is slightly different. Caroline sends weekly inspiration and life lessons. It's great content that is perfect for her ideal subscribers who are soulful creatives that are crafting an authentic life story. She sends these newsletters consistently every week and only strays off topic when she has a big launch coming up. Even then she finds a way to tie her launch into her inspirational stories.
In every email, Caroline includes links to her recent products and services at the bottom of her messages. It's subtle, but once you finish reading one of her weekly messages you're presented with the opportunity to click through to her paid offers. You can see an example of Caroline's newsletter here.
Both of these ladies have managed to build lucrative businesses by nurturing their relationships with subscribers by sending valuable content. No pushy sales pitch necessary.
Example #3
I have one final example. The previous two examples showcased digital product based online businesses. This example is a service based business local business. A friend of mine acts as a Romance Concierge, planning dates and experiences for couples. Her ideal subscribers are men. When thinking about what type of content would be of value to her subscribers she needs to consider what problems are driving them to her business.
Any of these could be a possible scenario:
A milestone anniversary is coming up and the customer wants to make it a night to remember.
The customer's wife has complained that they no longer do anything fun and he wants to spice things up but isn't sure how.
The customer wants to surprise his wife just because, but he is busy and doesn't have time to handle the details.
Each of these men could benefit from the services of a Romance Concierge because they are all seeking an experience that will impress their wives.
Here are a few email ideas that could be sent:
The top 10 ways to celebrate a milestone anniversary or a list of anniversary gift ideas by the year
Unique date night ideas for adventurous couples
5 excellent local restaurants that you probably haven't visited
Each of these messages contain value. They are providing solutions that her subscribers can act on today regardless of whether or not they use her services. She also has the opportunity to mention that her company has established relationships with the vendors listed in her email while reminding her subscribers that they'll be saving time (and possibly money) by letting her take care of the plans. This is how you sell without having a sale.
Do you have a better understanding of what valuable content looks like now? Tweet me and let me know (@starchasersonly).
[symple_divider style="solid" margin_top="20″ margin_bottom="20″]
Generating Content Ideas
Grab a pen friend. It's time for you to generate some email content ideas. When deciding what I'm going to send to my list, I like to start with the opportunities that already exist like product launches, events, and promotions. Any activities that your brand will be participating in that your subscribers need to be aware of should be included.
STEP ONE
Start with your business goals and objectives for the year. Use your calendar to map out product launches and events for the next 90 days. Think about what type of emails you can create to support your goals. Can you tell a story over several emails that builds up to your product launch? For each product launch try to come up with 2-3 content ideas.
STEP TWO
Add in contests and promotional opportunities. What do you have coming up? How much lead time do you need to give your subscribers to ensure their participation? For each contest or promotion come up with 1-2 content ideas.
STEP THREE
Add in holidays. What national holidays are important to your brand? Do you plan to celebrate any of those quirky holidays (i.e. National S'mores Day)? What related email messages can you send to coincide with them? For each holiday try to come up with 1-2 content ideas.
STEP FOUR
Finally, add in any events that you're attending or participating in. How far in advance do you need to send an invite to subscribers if you'd like them to attend? When should you send an event reminder? For each event come up with an announcement and a reminder email. Now you have a timeline of the emails you need to send for promotions and product launches. Let's fill in the gaps and add in a few relationship building email ideas to create a well-rounded strategy.
Brainstorm Even More Ideas
STEP FIVE
Set a timer for 10 minutes. Use note cards or a mind map to brainstorm a list of topic ideas that your ideal subscriber would be interested in. Don't edit yourself. Write any idea that comes to you. Next, review the ideas that you came up with. Combine any ideas that are similar and get rid of any that don't make sense. Make a note of any additional ideas that pop up.
STEP SIX
Take each topic and create a new mind map. Try to come up with as many content ideas as you can in 5 minutes. Repeat this process for every topic. Again, read through your content ideas and get rid of any idea that you aren't interested in. Any idea that made the cut should be recorded wherever you save potential content ideas.
Create an Email Content Calendar
Once you complete both brainstorming processes, you need to decide on an email schedule. The frequency of your emails is largely determined by you. When creating your strategy keep in mind how much time you have to devote to content creation. Consider a schedule that works for you and then think about your subscribers. How often would they want you in their inbox? As a best practice you should aim to send at least 2 messages a month. Any fewer than that and your subscribers might start to forget why they signed up for your list. If you're comfortable making the commitment send weekly emails. Use a planner/ calendar to block off the days that you'll be sending email newsletters for the next 90 days. Decide what you will send and on what day. Then, plug those ideas into your email content calendar. Now you'll have a better idea of what email content you need to start developing.

Was this post useful? I'd love if you'd share it.