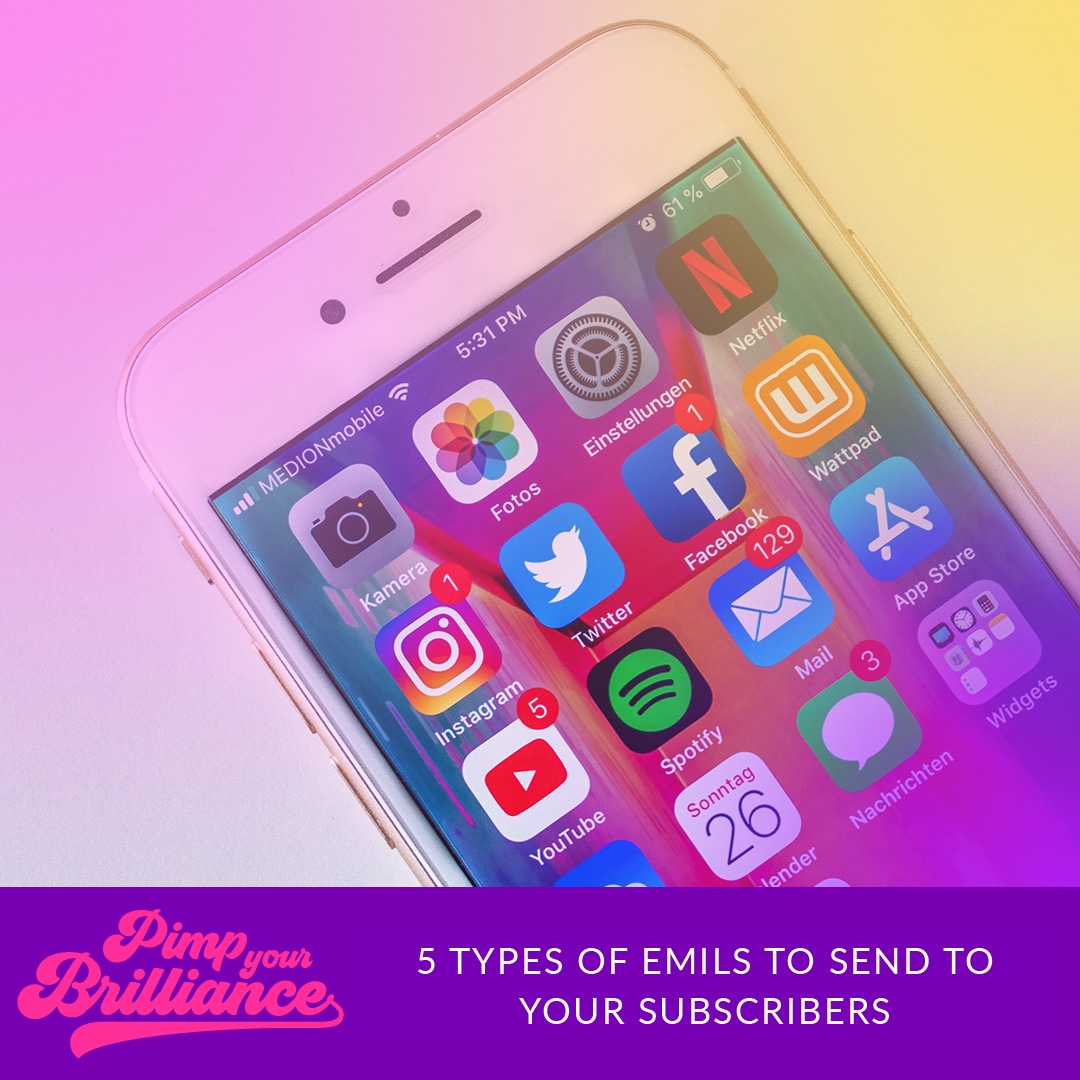 ---
The primary goal of your email marketing strategy is to do three things: attract, nurture, and convert subscribers to buyers. Sounds simple, right?
It is if you have a strategy in place focused on nurturing the relationship with your subscribers. You can do this by sending something of value with every email message.
A valuable email doesn't need to include a free download but it should inspire, connect, educate, or entertain your subscribers. This is key.
A valuable email doesn't need to include a free download but it should inspire, connect, educate, or entertain your subscribers.
Your emails are an opportunity for your brand to build trust and show your expertise. This allows subscribers to get to know, like, and trust you more. Simply put people buy from people they like.
The problem is that most creative entrepreneurs aren't sending enough emails. They spend a lot of energy creating lead magnets and trying to grow a massive list but drop the ball when it's time to actually hit send.
One common reason creative business owners aren't sending more emails is that they're not sure what they should send. I hear a lot of conversation online about what to send to your email but rarely do I see people explain the different types of email that you can send.
In this episode of Pimp Your Brilliance, I'm sharing 5 types of emails to send to your subscribers.
The 5 types of emails to send to your subscribers
There are several types of emails that you'll send to your subscribers. A well-rounded email strategy involves at least two or more of them. Here's a breakdown of the different email approaches:
RSS to Email
RSS stands for Really Simple Syndication. An RSS feed is an XML file that automatically updates when new content is published.
Your blog, podcast, or YouTube channel all have RSS feeds which your audience can subscribe to in their preferred feed reader. An example of this would be listening to a podcast in a podcast app like Spotify or Apple Podcasts.
RSS to email allows you to generate and send an email directly to your subscribers every time your feed is updated with new content. This is a great way to make sure your audience is being made aware of new content that you're releasing.
In most email marketing software, you can add your RSS feed to your account to automatically create emails. You can even determine whether emails get sent out automatically or if you'd like them to be generated and held for review.
Using your RSS feed to create emails can be completely hands off but there are limitations. In Convertkit (my email provider) my RSS feed does not pull in images from the blog post, but that's a small price to pay for automation.
Using RSS to email is one of the easiest ways to send email messages to your list if you publish content consistently.
Newsletter/ Digest
A newsletter or digest is a round-up of share-worthy items or articles presented as a summary. It's usually sent on a weekly basis but some businesses send them monthly.
Sending a newsletter can help you:
If you don't have a ton of content yet or you're not a strong writer.
Drive traffic to different parts of your website. This can be great for resharing evergreen content or offers that you want to get more eyes on.
Earn money through affiliate offers.
Become a trusted resource for your audience by sharing content that is closely aligned with your brand.
Many creative businesses have built huge email lists by sending curated weekly emails. A few examples for you to check out are Girls' Night In and Austin Kleon's email newsletter.
However, if your email strategy relies heavily on sending out regular digests your article curation has to be strong. As a trusted resource, the articles should make sense for your niche and be of high quality because what you share in your email may seem like an endorsement to your audience.
Relationship Building
Relationship building messages are where the magic of email marketing happens. You don't always need to send a sales email to sell.
Relationship building emails help you nurture the relationship between you and your subscribers. They are perfect for storytelling.
Sending relationship-building messages offers you the greatest flexibility and creativity amongst the different types of emails. They're great if you have a knack for writing.
There's no shortage of ideas for what you can send:
A glimpse behind the scenes of your business/life
Short lessons you've learned
Words to inspire
Relatable stories
Actionable tips
These emails are where you pack in the value.
Some of the best relationship-building emails that I have received come from Alexandra Franzen. She writes emails helpful, thought-provoking emails sharing life lessons or fun invites to classes. It's like getting an email from a friend and I look forward to reading each one.
Relationship building messages are great for telling your story which helps your subscribers care about your business and feel like they are apart of the story.
Sales/ Promotional
Sales/ promotional emails ask for the sale directly. They are the most common type of email because they are sent by almost every business.
When I think about sales emails, Bath and Body Works and Old Navy come to mind because they are in my inbox every day.
Promotional emails are great because they force subscribers to make a quick buying decision that drives sales.
Sales emails definitely have a place in your email strategy but they be used sporadically. Your subscribers do not want to be sold to constantly.
There are more subtle ways to sell to your subscribers without screaming you have something for sale. Also, you don't want to train your customers to only buy from you when there is a sale.
Try to aim for 80% value-packed email content and only 20% sales/ promotional messages. Less really is more.
Transactional
Transactional emails are messages that you send after someone has made a purchase or paid for a service.
It's easy to overlook these messages but they are a crucial part of your email marketing strategy. They help you provide better customer service.
Transactional emails are important because they put buyers at ease confirming receipt of their information or letting them know where they are in the process.
Imagine how unsettling it would feel to make a purchase and then receive no acknowledgment that the order went through.
Transactional emails aren't limited to order confirmations. They can be appointment reminders, shipping information, onboarding emails, or feedback requests.
Sending email is another slice of the marketing pie. Before you start sending campaigns to subscribers make sure you know your goals and have an email marketing strategy in place. This will help you create useful email content and remain consistent.