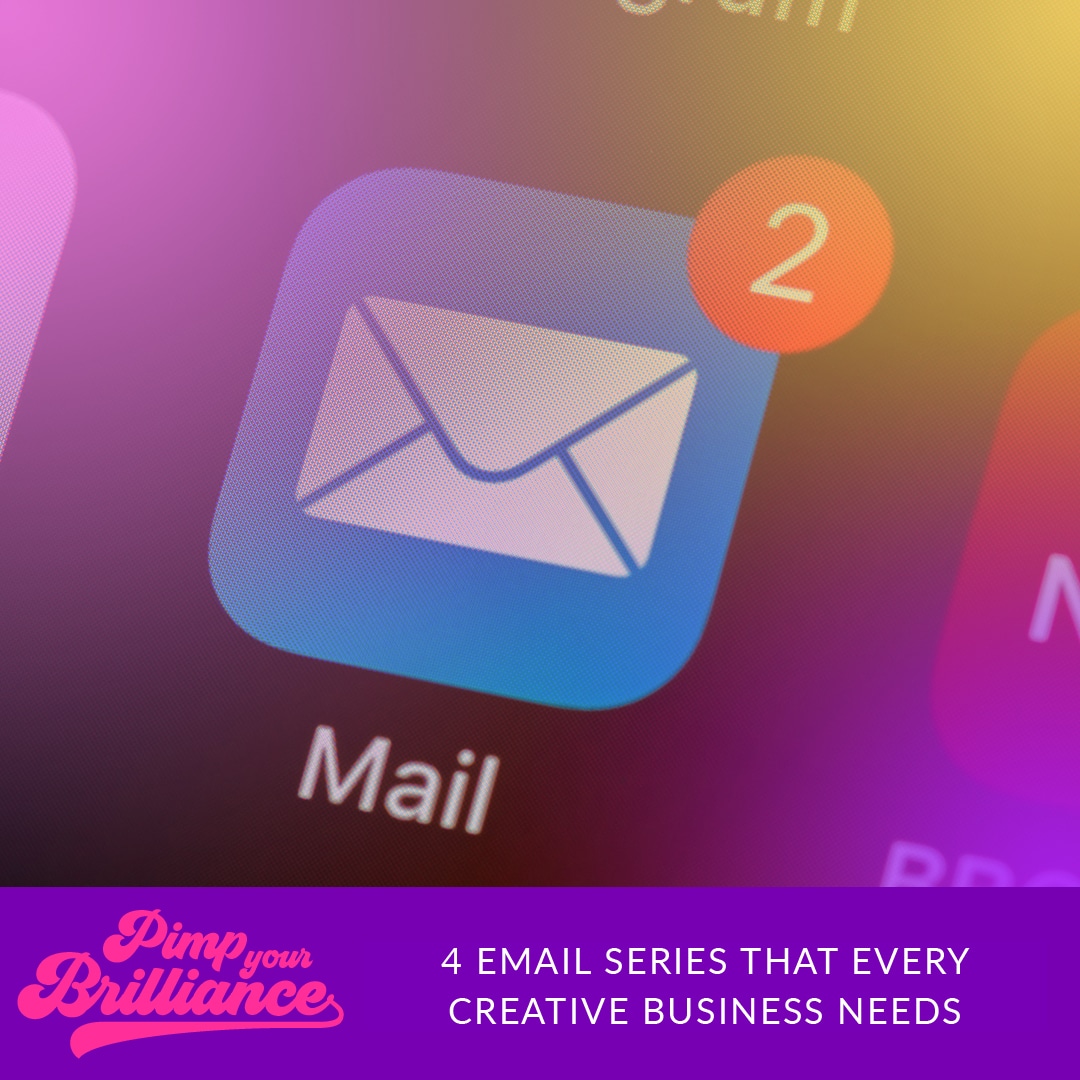 ---
We are wrapping up the conversation about how to get better at email marketing. If you missed the previous lessons, you can go back to episode 89 or episode 90. Today I'm sharing 4 email sequences you must-have for your creative business.
Let's start at the top.
What is an email sequence?
An email sequence is a series of emails automatically sent to specific segments of people on your email list.
Email sequences are useful for a variety of different purposes, especially when digital products are involved. Whether it's a triggered workflow that helps nurture new leads, follow up after a purchase is made, or sending automated podcast updates – email sequences makes your business more efficient.
For example, I use an email sequence to automatically onboard new members of the Brilliance Lounge and explain community features so that they get the best possible experience.
Welcome Series
Welcome series are triggered after a new subscriber signs up for your email list. Over a series of days or even weeks, this sequence sends emails to help familiarize new community members with your business.
Welcome series are the perfect time to share:
Who you are and who you serve
Popular resources (blogs, podcasts, videos)
Ways to connect
How someone can hire or work with you
Post Purchase Follow Up
This is one of the simplest (and smartest) customer service hacks. This is just a series of emails that someone receives after they make a purchase. These emails can include everything from how to access the product to helpful resources so that they can make the most of their investment.
Here are a few email suggestions to include in your post-purchase sequence:
Thank you for purchasing + a short introduction (sent immediately)
'How's it going?' or 'Do you have any questions about your purchase?' (sent 2-3 days later)
Additional resources (5-7 days)
Related product suggestions (whatever makes sense for your business)
Subscriber Reengagement
Sometimes email lists get stale. Subscribers become disinterested or stop opening your emails at the frequency that they once did. That's when you send your reengagement sequence.
The hard truth is that you pay a premium to have people subscribed to your list so you only want people on their who are actively engaging. Otherwise it's affecting your list by decreasing your open rates and making you at risk higher for SPAM complaints. This lowers your reputation which makes it harder for those who want your emails to get them.
This is why email list hygiene is important. Make it a regular practice to run a subscriber reengagement sequence every quarter to those people who have not opened your email in the past 90 days.
It's not as scary as it sounds. You are giving people the chance to opt-out of receiving your emails or let you know that they're still interested in hearing from you. After about a week anyone who hasn't unsubscribed or engaged, is deleted. This keeps your costs low and your email reputation high.
Sales Sequence
If your business isn't selling, you're not going to be in business for long. Sales sequences help you make sales offers automatically. This is clutch when you think about how limited your time is each day.
An active sales sequence can build the know, like, and trust factor with your audience as well as showcase ways they can pay you. You need a sales sequence if you want to create passive income streams.
Your sales sequence doesn't need to be long and drawn out. The main things are being mindful of who's receiving it, having a clear offer, and making sure you have follow up emails added into it.