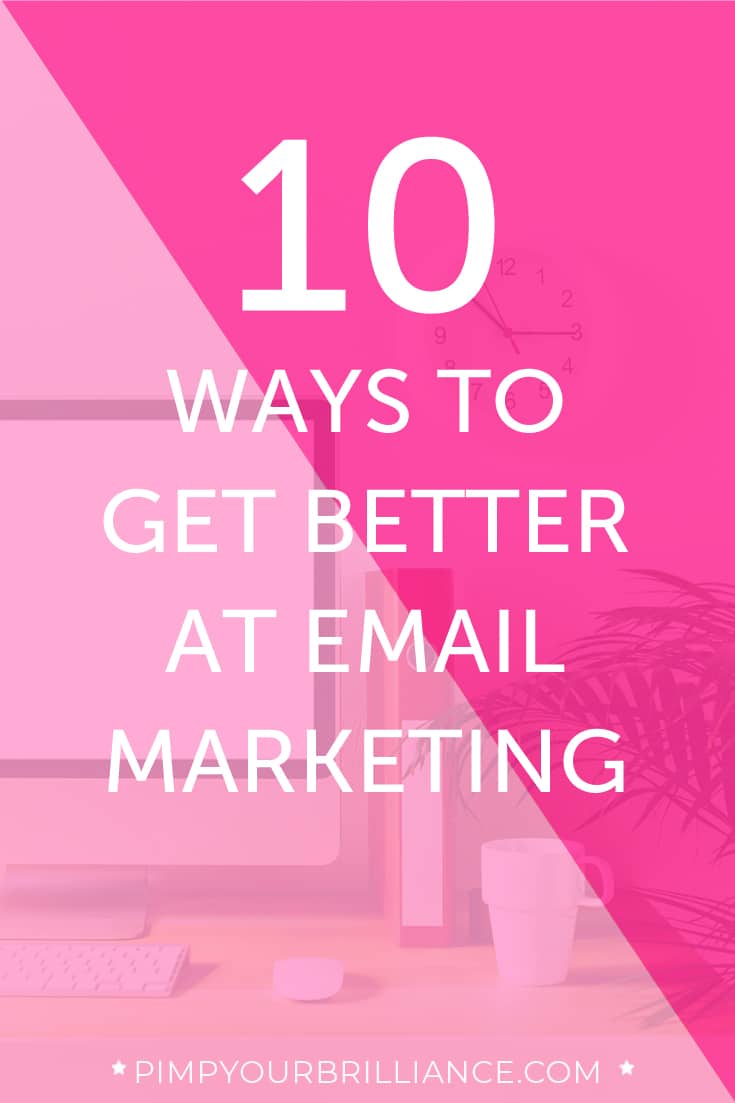 I have the hardest time convincing my creative friends to start sending email. Most of them have a list, but few of them if any actually send emails on a consistent basis. Now if we were talking about twitter or Instagram the conversation would be dramatically different. Everyone's using social media to promote their brand's. Social media is the marketing darling, favored as the must do thing of new start-ups and brands. The irony is that email marketing is more effective than social media marketing.
Just like social media, getting started with email marketing takes time and persistence, but the payoff usually comes much sooner. The best part of email marketing? You own your list so the social network powers that be can't suppress your messages with updates to their algorithm. That's awesome, right?
If you're ready to embrace email, take a look at this list of 10 actionable tasks for you to try.
1. Create an opt-in incentive.
The fastest way to grow your email list is by offering potential subscribers a freebie in exchange for their email address. An opt-in incentive can be a coupon code, free printable downloads, ebooks or an email course. There is plenty of room for creativity here. The only requirement is that your offer be something your audience is actually interested in. Make it something they can't resist.
2. Clean up your list.
Unsubscribe anyone who hasn't opened your emails in the last six months. Don't wait for them to flag your email as spam. If you've been collecting emails for a while but have never sent anything to your list, you should reconfirm it. How do you reconfirm your list? Basically, you're asking subscribers to verify that they're still interested in being on your list. The benefit of doing this is avoiding being flagged as a spammer once you start sending emails. If you receive too many spam complaints your email provider may suspend your account. The moral of this story? Clean up your list.
3. Develop an editorial calendar.
Consistency is important when building a subscriber relationship through email. Knowing what you're going to write about in advance takes the guesswork out of it and increases your ability to stay on schedule. Use an editorial content planner or a regular calendar to help you develop a consistent stream of content and topics.
4. Write an awesome welcome email.
This is your first opportunity to wow new subscribers and them excited to have you in their inbox. Don't disappoint them by sending a generic welcome email. Write something awesome, send them a funny video you created just for new subscribers or show them you're interested in helping them solve their problems by asking them thoughtful questions. Make your first communication with them worth remembering to open your future emails.
5. Create a sign-up page on your site.
Opt-in boxes are great, but you have limited space to convince a potential subscriber to join your list. Creating an opt-in page allows you to paint a better picture of why subscribers should join your list. Sell your list benefits. Use images to show potential subscribers what they'll be getting or show snippets of your great exclusive content. Work it! Then link to this page from all of your social profiles.
6. Write an exciting opt-in box headline.
A successful headline will make the reader take action. Skip the generic join my newsletter text and write something worthy of your brilliance to draw subscribers in. Use your headline to tell subscribers succinctly how your opt-in offer will solve their problem.
7. Use a branded template.
Short and sweet. Templates save time and create consistency. Your emails are another place to reinforce your brand.
8. Send a survey.
Want to know the easiest way to find out what your subscribers want to hear about? Ask them. Send your subscribers a short survey asking them what they're currently struggling with. Their answers can be used to create future content. Also, you'll have a list of problems that you can leverage your expertise to solve (a.k.a potential income ideas).
9. Learn to use autoresponders.
I can write an entire post about why autoresponders are so amazing but for now I'll keep it short. Autoresponders allow you to send a series of emails based on a trigger event. A trigger event can be a purchase, visiting a specific page on your site or joining your list. They can be used to deliver e-courses, a series of sales emails or follow-up information after a purchase. There's lots of potential for using them to monetize your business. Basically, they're awesome.
10. Create multiple opt-in boxes.
Make it easy for people to subscribe to your list by placing opt-in boxes in multiple locations on your site. A few places to try: your header, at the bottom of blog posts, on your about page or as a checkbox on your contact page.