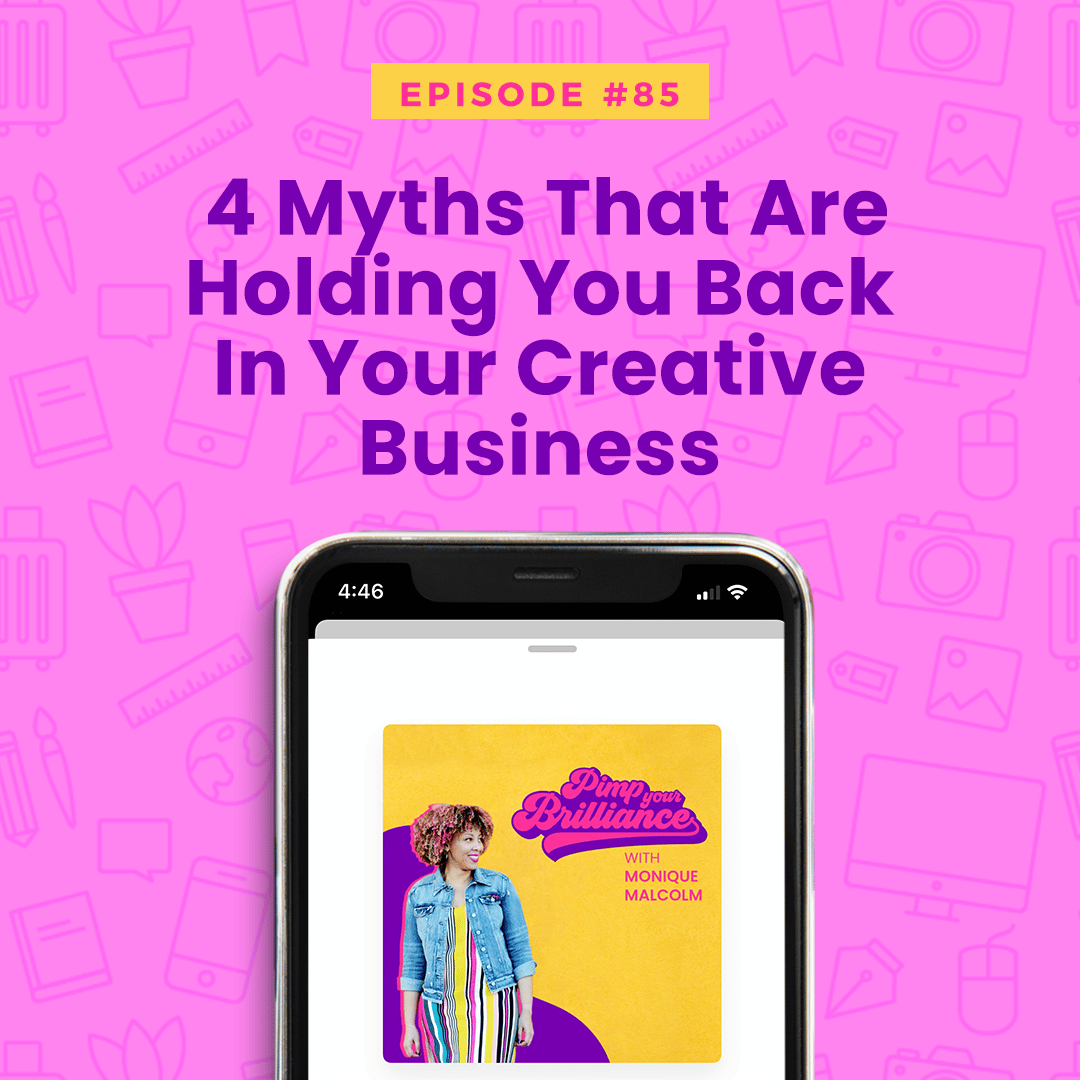 ---
We all have our BS (belief systems). Some of those thoughts and beliefs aren't helping us grow but instead, they are holding us back. More than ever we need leaders. We need people to step into the things that they were called to do. In this episode, I'm talking about the 4 myths that are holding you back in your creative business and what you can do about it.
Myth #1 – "I'm not an expert."
No one is asking you to be an expert. You can be a contributor.
"I'm a contributor, not a guru. As soon as I gave myself permission to contribute to the conversation of women and money, and not have to be a guru or expert, then my business became fun. If you really care about a topic, be a contributor. Who cares if you don't know everything. You don't have to be the best to make a difference to someone."

-Denise Duffield-Thomas
Your audience wants to learn about your experience and see your journey through your lens. It's enough to show them what you're working on and giving them insight into how you are handling problems that pop up. Let that expert label go.
Myth #2 – "I need to do more research."
This is the exact recipe for analysis paralysis. How much information is enough?
"Too many people educate themselves out of their dreams because they keep researching instead of taking action."

-Felecia Hatcher (Pimp Your Brilliance episode 14)
It's time to stop researching and consuming content. You need to start taking action and creating. There are steps you can take right now without consuming another ebook, freebie, or webinar. I challenge you to take action.
Myth #3 – "I can't afford it."
I'll be the first to admit that this is a legitimate concern. The reality is most creative businesses are bootstrapped but you don't have to put everything in place at once. It's much smarter to invest strategically in the things that will free up time or earn you more money. In the meantime, there are plenty of free or low-cost tools that you can use to get you started. Be resourceful!
Myth #4 – "I need a bigger audience."
You don't need a huge audience to start making an impact. You can monetize and start helping people now. Hang out and engage in places that your audience hangs out. Don't be afraid to join the conversation. You don't need a bigger audience, you need to serve the audience you already have.
Links & Resources:
---
Loving this content?!
Be the first to know when new episodes drop by subscribing to Pimp Your Brilliance in your favorite podcast player.
You can also support the show by leaving a podcast review, sharing a screenshot of this episode on your favorite social network, or buying me a coffee over at moniquemalcolm.com/coffee.