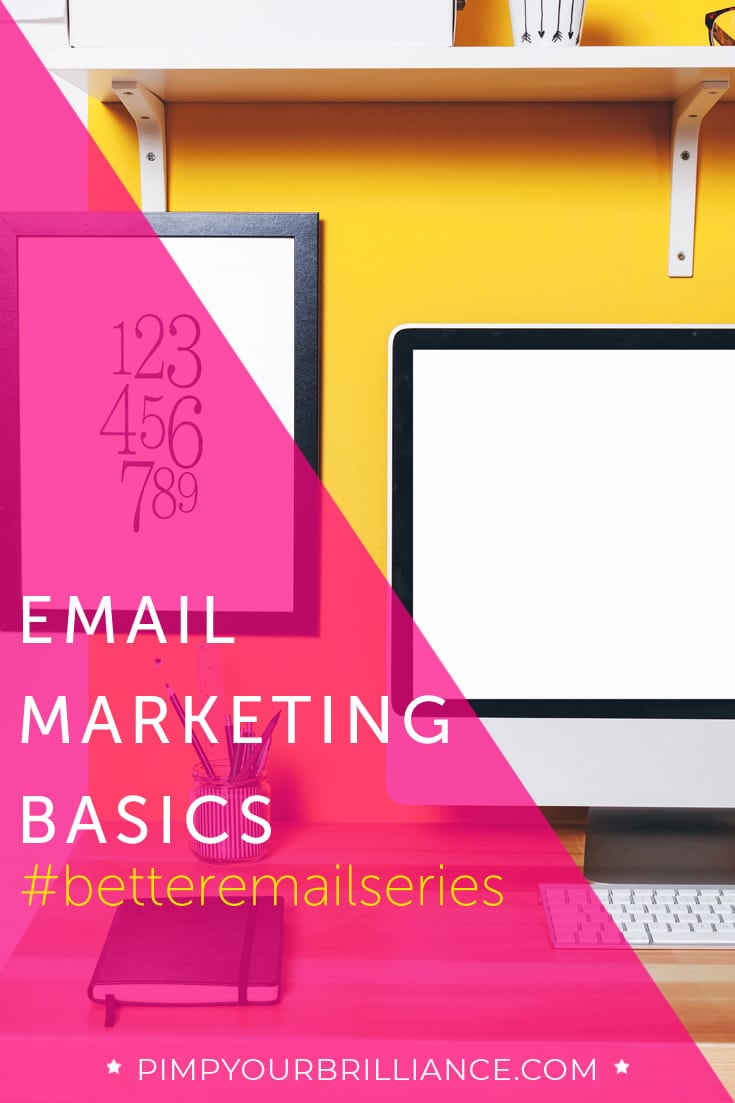 Email marketing seems to be the small business unicorn. Everyone knows that they should have an email list (You know this, right?) but most aren't sending anything. It's a shame because if someone took the time to join your list chances are that they want to hear from you. Don't disappoint your subscribers by not emailing them. It's a missed opportunity if you don't.
When I chat with creative business owners about email marketing, overwhelmingly they say, "I don't know what I'm supposed to send my list" (side note: You can find a few content ideas here). That lets me know that many creative-preneurs don't fully grasp the basics of email marketing. It's a lot easier than you think. This is why I'm starting the Better Email Series. We'll be covering topics like email basics, what to send, and growing your list. Sending an email is just another form of content for you to master and you're totally going to nail it. Let's jump in.
---
Do You Know The Goal?
If you only take one piece of information away from this post, let it be this.
The primary goal of your email marketing strategy is to do three things: attract, nurture, and convert subscribers.
Sounds simple, right? It is if you have a strategy in place focused on nurturing the relationship between you and your subscribers. You do this by sending something of value with every email message. A valuable email doesn't need to include a free download, but it should inspire, connect, educate, or entertain your subscribers. This is the key.
Your emails are an opportunity for your brand to build trust and show your expertise. This allows subscribers to get to know, like, and trust you more. People buy from people that they like. Your strategy should help your brand stay at the top of your subscriber's mind, so when they're in need of your product or service, they'll remember and buy from you.
A very basic email marketing strategy looks something like this:

---
The Three Phases of an Email Strategy
Now let's talk a bit about the three phases of an email strategy.
Attract
Your focus during this phase is creating content that attracts your target subscribers and then capturing their email addresses. Content is everything that you are putting out on the internet. Blog posts, social media updates, and opt-in incentives are all pieces of content that can attract or repel potential subscribers. Your goal is to use your content to get the right people on your list.
Nurture
This phase is all about delivering value to your subscribers. You should be focusing on sending high-quality content to your list on a consistent basis. You want them to expect it. This is also a good time to start training your subscribers to not only open your emails but also to click the links inside.
Convert
The final phase of this process is the money maker. Get your offers ready and ask for the sale. If you've taken the time to build enough rapport, interest, and likability, you should expect a few sales.
---
The Types of Emails 
There are four different types of emails that you may send to subscribers. Here's a breakdown of the different email approaches:
RSS to email
Using RSS to email is probably the easiest way to send email messages to your list. RSS to email allows you to automatically send new blog posts directly to your subscribers via email. You can schedule your emails to go out at specific times and days. Using merge tags in MailChimp automates most of the process.
Pros: It's a good way to get started sending content regularly to your subscribers. It doesn't take much time because most of the process is automated.
Cons: It isn't exclusive content. Some subscribers may be reluctant to join your list because they can get the same information on your blog or via an RSS reader.
Newsletter/ Digest
This is a round-up of newsworthy items or articles presented as a summary. It's usually sent on a monthly basis, but some brands send them weekly. Sending a digest is an excellent approach for driving traffic to different parts of your website.
However, if your strategy relies heavily on sending out regular digests, your article curation has to be strong. If you're sharing articles not written by your company, make sure that they are still on-brand. The articles should make sense for your niche and appear as if they could have been written for your brand.
Pro: You get to share a variety of content types with your subscribers. Can be a time saver since you don't have to write unique content. Great way to drive traffic.
Con: This approach requires excellent content curation. If you are using content from other brands, you are sending subscribers away from your brand. It's not exclusive content.
Relationship Building Messages
Sending relationship-building messages offers you the greatest flexibility and creativity. You can send your subscribers a sneak peeks, a glimpse behind the scenes, short lessons you've learned, or a little bit of inspiration. This is where you pack in the value. Relationship building messages are great for telling your brand's story. Make your subscribers care about your brand and feel like they are apart of your story.
Pro: As the name implies this approach is great for building your relationships with subscribers. You have the opportunity to show your expertise and position yourself as an expert.
Con: It can be time-consuming to produce high-quality messages. You'll need to commit to a schedule and have a steady stream of ideas.
Sales/ Promotional
Sales messages should be used sporadically. Subscribers do not want to be sold to constantly. Also, you don't want to train your customers only to buy from you when there is a sale. Try to aim for 80% value-packed content and only 20% sales/ promotional messages. Less really is more. There are more subtle ways to sell to your subscribers without screaming you have something for sale.
Pro: Sales!
Con: Messages that are too salesy will encourage unsubscribes.
Email marketing is just another way to let customers know that you have solutions to their problems. Before you start sending campaigns to subscribers make sure you have an email marketing strategy in place. This will help you create useful content and remain consistent.
A Word of Caution
Once you start the process of attracting, nurturing, and converting your subscribers, all three phases are going to be happening simultaneously. Your subscribers will be at different points in the cycle. It's important to make sure your business is ready for marketing, especially in the attracting phase. Potential customers will be visiting the platforms you're creating content for and will form opinions based on what they see. Make sure that you stay on brand, have a content plan in place and your offers ready.
Was this post useful? I'd love it if you'd share it.