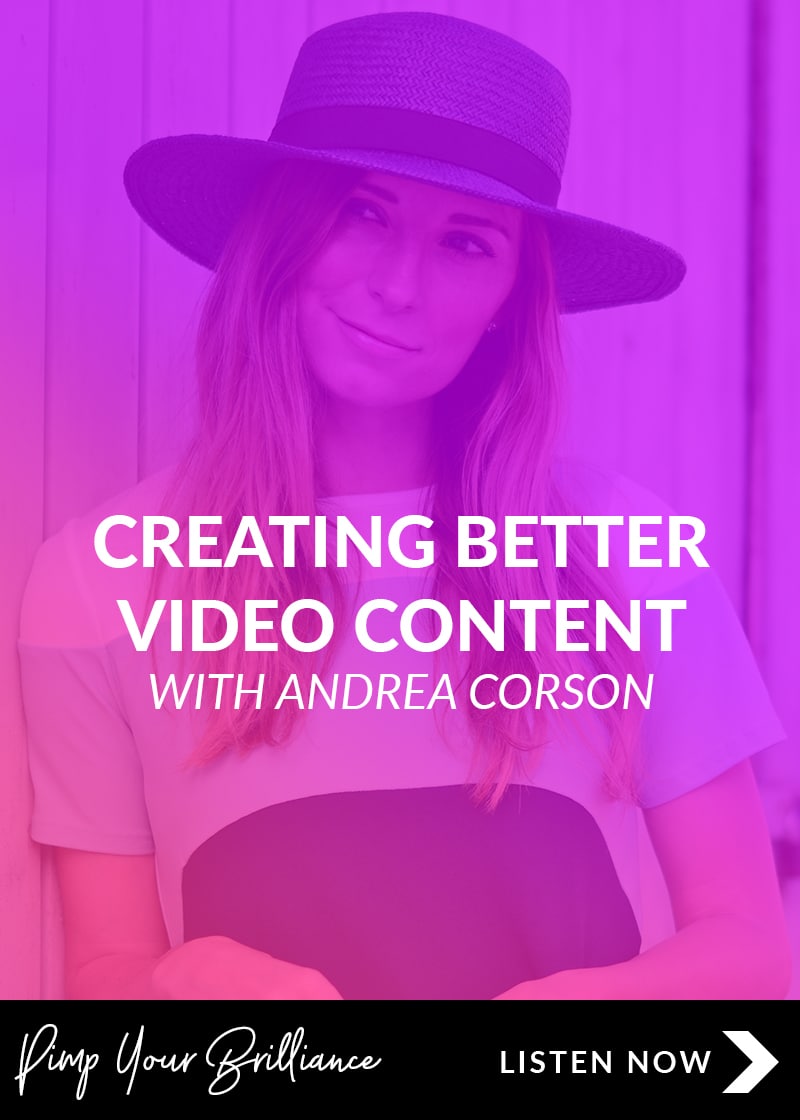 Are you utilizing video to connect with your audience? Well, you should be. Video converts at a much higher rate than other forms of content. It's pretty much a no-brainer. The problem is that most creative entrepreneurs are already overwhelmed and don't know where to begin.
That's where today's guest, Andrea Corson jumps in. Andrea is an Emmy-nominated television producer, digital strategist, and the founder of Video Pop. She teaches creative entrepreneurs how to use video effectively to grow their brands.
Whether you're looking to nail down the perfect strategy for your video, figure out how to make the best video for a specific social platform, launch a successful YouTube channel, hone your shooting/editing skill set, or decide you simply want to teach your team how to make great video (or have someone make video for you), Andrea is a true one-stop shop.

---
Press Play:
iTunes
Google Play Music
Stitcher
---
BEST MOMENTS:
How Andrea got started with Video Pop
Why video content is so appealing
How to get started with video when you have little to no experience
What you need to be considering when choosing a platform
Andrea's 8-step video process
Best apps for editing video on your phone
Live video vs pre-recorded video
How to feel more comfortable on camera
PIMP YOUR BRILLIANCE ACTION CHALLENGE:
Focus on your strategy. Make sure you figure out what problem you're solving for your audience.
Invest in the areas that matter. You need great sound, lighting, editing and proper training.
Just start. Stop second guessing yourself and get started.
VALUABLE RESOURCES:
Books:
Cameras:
Microphones:
Lighting:
Editing:
Video Courses + Training:
Video Pop Courses– Andrea is offering PYB listeners a discount on her courses. Use the code PIMPYOURBRILLIANCE (all caps) at checkout.
CONNECT WITH ANDREA:
HERE'S HOW TO SUBSCRIBE & REVIEW
Want to be the first to know when new episodes drop? Click here to subscribe in iTunes!
Podcast reviews are the internet equivalent of high-fives. iTunes uses the reviews help their algorithms rank podcast shows. Basically, the more reviews the merrier. I would be extremely grateful if you took a moment to leave a review and let me know your favorite part of this episode.
#PIMPYOURBRILLIANCE
Loving the podcast? Want to connect with other brilliant creative entrepreneurs? I encourage you to use the hashtag #PimpYourBrilliance and show our PYB tribe what you're up to. I'll be reposting some of my favorite images and stories.