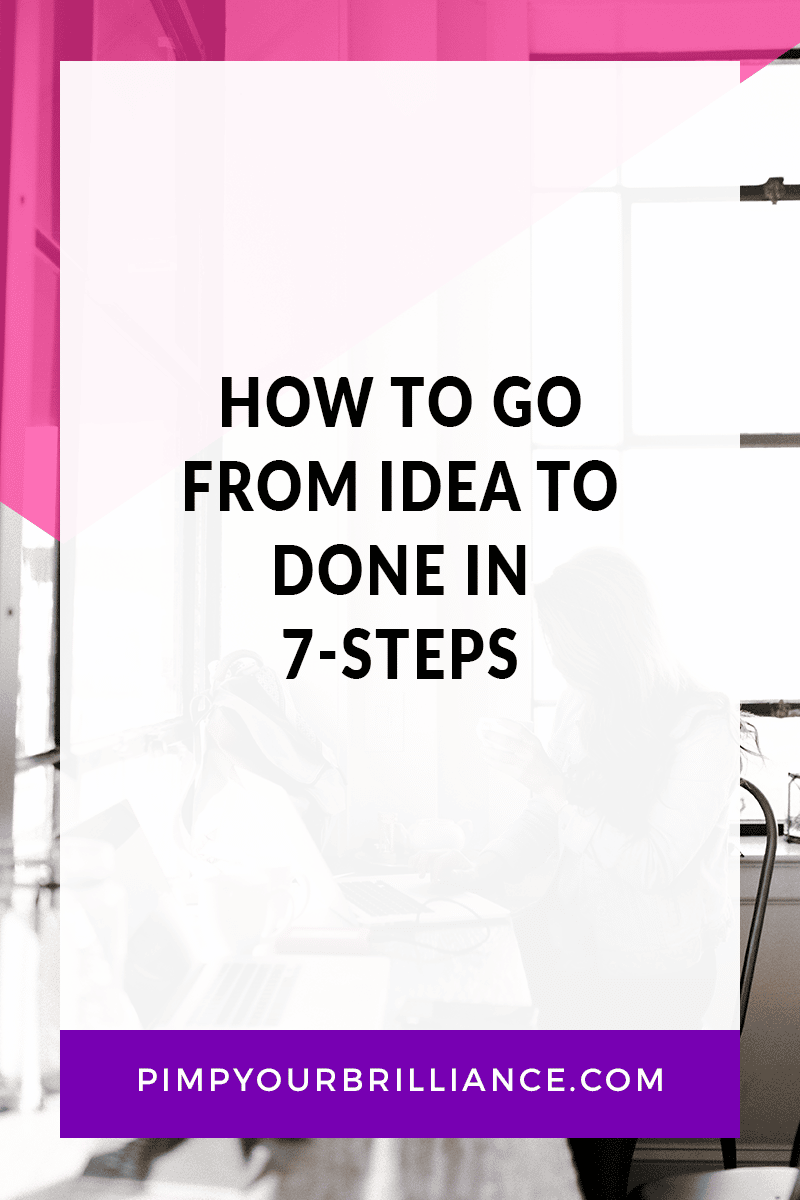 It can be both exciting and scary to have a new idea but many people get stuck before they get started. This is such a bummer because I know you have a fantastic idea that the world needs to experience. No need to worry. I've got your back. In this minisode, I walk you through the 7-steps that you need to complete to take you from idea to done.
PRESS PLAY:
Full Episode (Right-click to download)
Subscribe on iTunes Google Play Music
---
Write it down and brainstorm.
Every good idea starts with a brain dump even if you just have pieces of the idea. You already have an idea of how you want this thing to look or features that it should include, make sure you write those things down as well. Expand your brain dump and include your wish list features and must have features.
Identify what problem your idea solves.
If you want to turn your idea into a business or even just a side hustle you need to know what problem or pain point it resolves for your potential customer. Spend some time thinking this through because you'll eventually need to sell this idea as a solution.
Research and see what has already been done.
Do a google search of your idea and look at what's already been done. You don't have to reinvent the wheel, you can put shiny new rims on it. Look for gaps and opportunities that were missed in those products. Start compiling a list of resources that your creative neighbors (#nocompetezone) are using for similar ideas.
Figure out your MVP (Minimum Viable Product).
What does a functional bare minimum of this idea look like? What is the cost of bare minimum resources, software, and supplies? Figure out what a functional version of this idea looks like and costs.
Prototype it.
Create the beta version of your idea. Remember that it's a work in progress. It doesn't need to be perfect. You can tweak the idea on the fly. The goal is to have something functional that you can share for feedback. If it's a physical product, don't be afraid to get your hands dirty by building the prototype yourself.
Get feedback.
Take your MVP and share it with your audience or the specific people who would benefit from it. If it's a paid beta ask for feedback and testimonials in exchange for the reduced cost. The key here is that you want honest feedback to help you improve your idea so make sure to let your beta testers know that you're open to any and all feedback.
Refine and move forward.
Go through the suggestions and see which ones can actually be implemented. Follow up with the beta tester and show them the improvements. Start putting together a launch plan because you did it!
RESOURCES MENTIONED:
LIKE THE SHOW?
Ratings help the show grow and rank better in iTunes. If you enjoy the doses of inspiration being dished out, take a moment to give Pimp Your Brilliance a 5-star rating on iTunes.