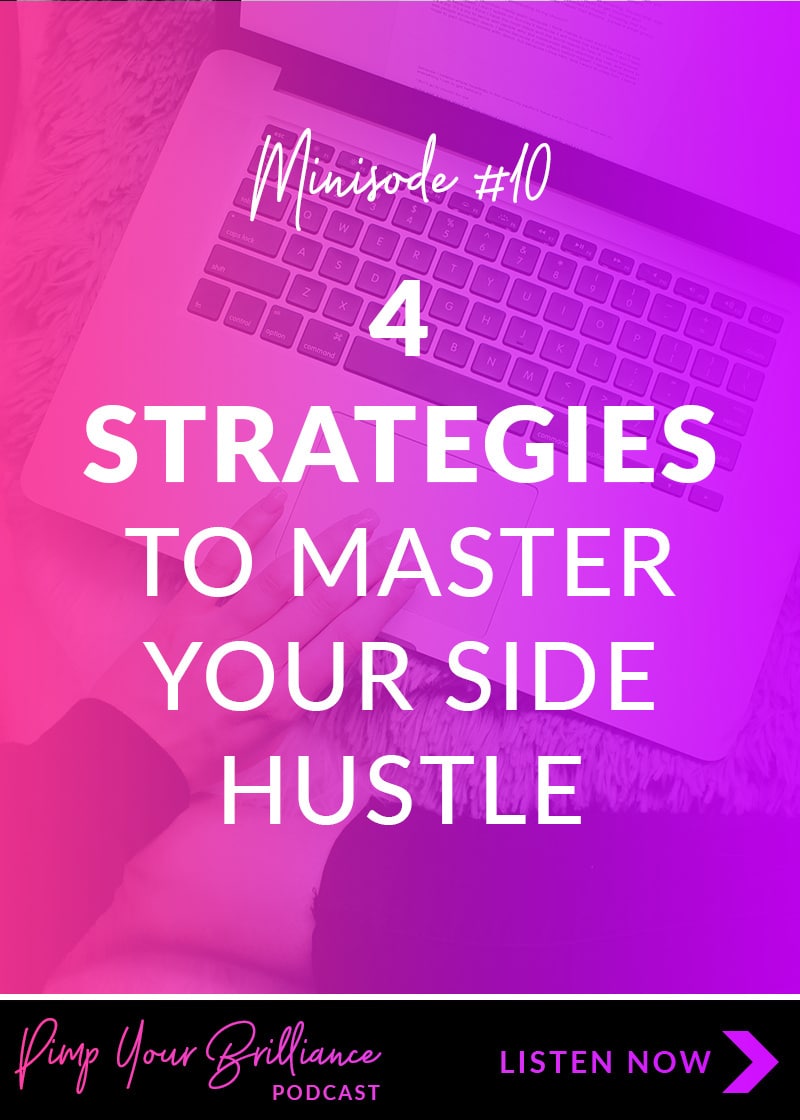 In a recent listener survey, I asked "What's one thing that you're struggling with in your creative business". Overwhelmingly the answers the revolved around struggles related to running a side hustle while holding down a 9 to 5.
If you've been struggling to make progress with your side hustle because of time and organization issues you aren't alone. Many creatives including myself have struggled with this. It has taken me years to figure out strategies, processes, and systems that help my business run with more ease.
In this episode, I'm sharing 4 ways to master your side hustle.
---
Press play:
iTunes
Google Play Music
Stitcher
---
GET CLEAR ON YOUR GOALS
When you're running a side hustle, there's no such thing as free time. Every hour counts. Which means you have to be really intentional about spending your time on the right activities that will yield the best return on your investment of time.
No more piling things onto your to-do list or bouncing between projects. You need to get clear on your immediate goals and what you need to do to reach them.
Instead of overwhelming yourself with focusing on a big annual goal, break it into quarterly goals. Setting a quarterly goal will motivate you to take action today instead of procrastinating.
Start by setting a quarterly goal.
Break your quarterly goal into smaller steps. Set 3 milestone goals to serve as benchmarks for achieving your quarterly goal.
Once those are set, assign 3 action steps to each milestone.
Now you have a good idea of how you need to structure your time.
MASTER YOUR SCHEDULE
You need to have a clear understanding of how much time you actually have to dedicate to your side hustle. You can't just assume you can squeeze it in. That leads to burnout.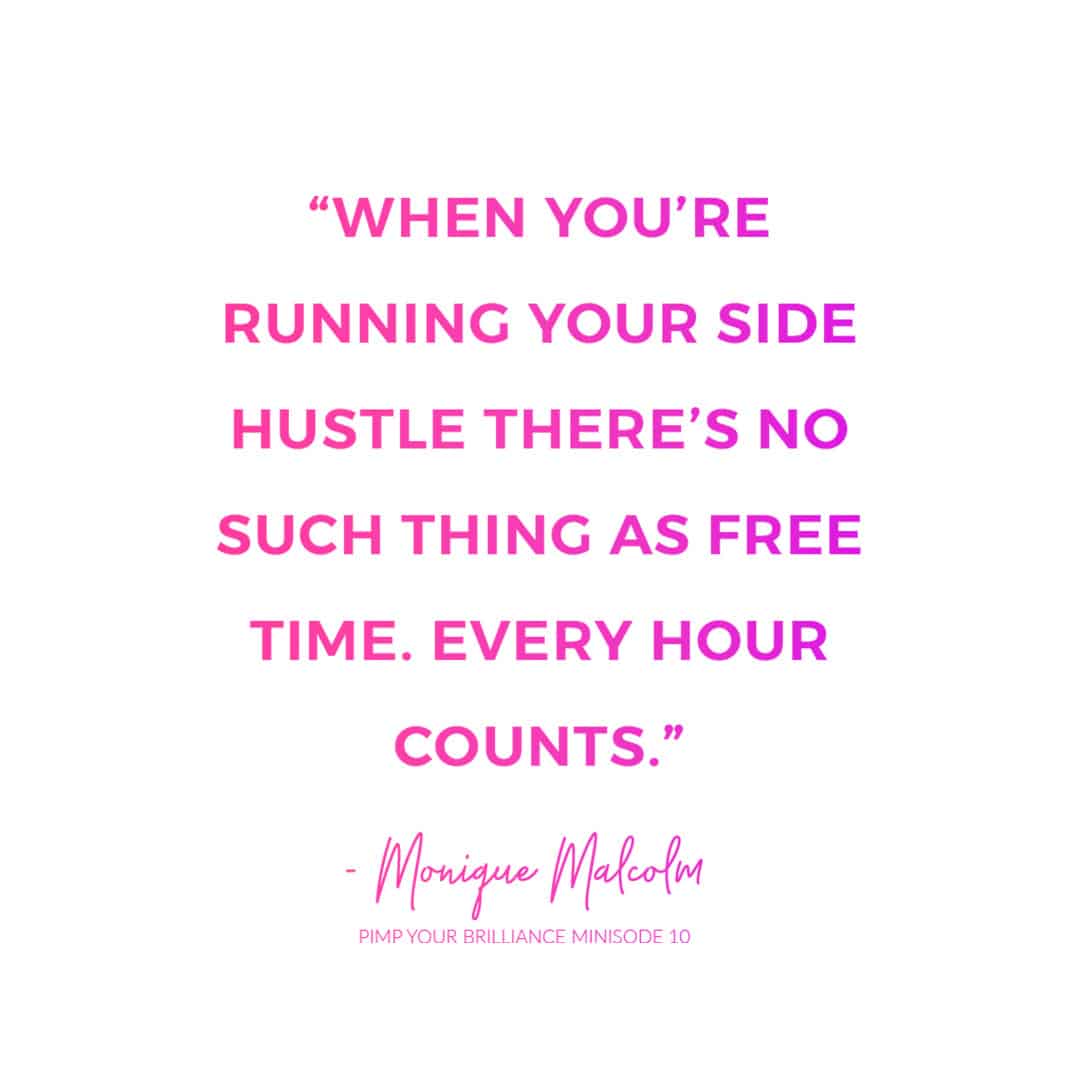 I gave a step by step breakdown of how to figure this out in a previous blog post titled How to Find Time to Work on Your Goals.
Here's a quick overview of how to figure that out:
Block off your sleeping and waking hours.

Block off your working hours along with the time it takes you to get ready and commute round trip.

Block off all after work commitments.

Block off time for cooking, eating dinner and self-care.

The time left over is what you have left to work on your side hustle.
Is it more or less time than you thought?
CREATE PROCESSES
The secret sauce to running a streamlined side hustle is having processes and procedures in place. Your Standard Operating Procedures (aka your brand playbook) is a document that outlines exactly how specific tasks should be handled.
Why is this important?
Having your processes outlined helps you estimate exactly how much work certain tasks take and find areas where you can be more efficient. Creating my brand playbook allowed me to see where I needed help with my business and hire the right type of virtual assistant based on skills they would need.
To get started:
Do an audit of all the tasks you complete in your business by listing them out.

Make 3 columns with the following questions:

Is this task required for my business to function properly?

Is this task recurring?

Does this task require the same or similar repeatable steps every time?

If all 3 columns are a yes, it's time to document those processes.
In the Brilliance Lounge, I show you how to create your Standard Operating Procedures and provide you with plug n' play templates so that you can get this set up quickly.
AUTOMATE TASKS
Once you have your processes documented, you can look for systems that will help you automate some of your work.
For example, people that have subscribed to the Pimp Your Brilliance podcast may receive a download notification or email alert when there's a new episode. This is all done through my podcast host and email provider.
Some other examples of systems that automate tasks:
Social media schedulers (Buffer, Smarterqueue)

Email marketing services (Convertkit, Mailchimp)

Calendars services (Calendly, Acuity)