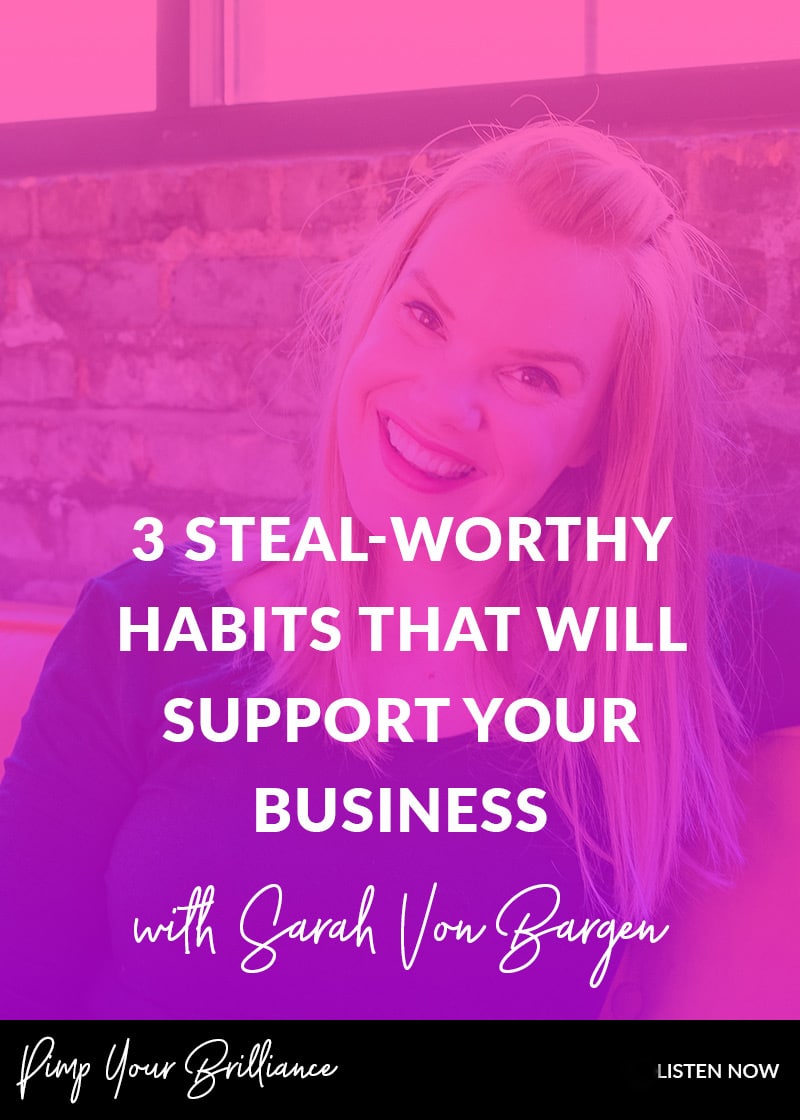 ---
LISTEN!
iTunes Google Play Music Stitcher
---
Sarah Von Bargen is the writer behind the clever and witty blog Yes and Yes, where she helps people put their money, time, and energy where their happiness is (instead of wasting it on throw pillows and Netflix binges). She's also the creator of Bank Boost and Make It Stick Habit School and her work has been featured in places like Forbes, Elle, Lifehacker, and Glamour magazine.
In this episode, Sarah shares how she got started blogging, why she's running her business 100% wrong, and 3 steal-worthy habits that support her business.
BEST MOMENTS:
[4:25] – Sarah created the blog she wanted to see in the world
[7:57] – How a life transition and difficult time lead to Sarah's path
[14:04] – Balancing 8 sources of income
[16:22] – Removing the pressure off yourself
[19:56] – Exploring your established network when you need help
[21:14] – Dealing with life changes and challenges while running a business
[32:46] – Sarah's biggest lesson learned
[34:04] – Pimp Your Brilliance action challenge
[40:11] – Bonus Tip
PIMP YOUR BRILLIANCE ACTION CHALLENGE:
Start your morning with a strong routine.
Create a strategic list of links to connect to other influencers, podcasters, and bloggers.
Try creating your own DIY writing retreat.
VALUABLE RESOURCES:
To Read:
CONNECT WITH SARAH:
Website | Instagram | Facebook Group
HERE'S HOW TO SUBSCRIBE & REVIEW
Want to be the first to know when new episodes drop? Click here to subscribe in iTunes!
Podcast reviews are the internet equivalent of high-fives. Apple Podcasts uses the reviews to rank and suggest podcast shows, so the more reviews we have the better. I would be extremely grateful if you took a moment to leave a review and let me know your favorite part of the show.
#PIMPYOURBRILLIANCE
Loving the podcast? Want to connect with other brilliant creative entrepreneurs? I encourage you to use the hashtag #PimpYourBrilliance and show us what you're up to.
SUPPORT THE SHOW
Grab a Pimp Your Brilliance T-shirt or pin.