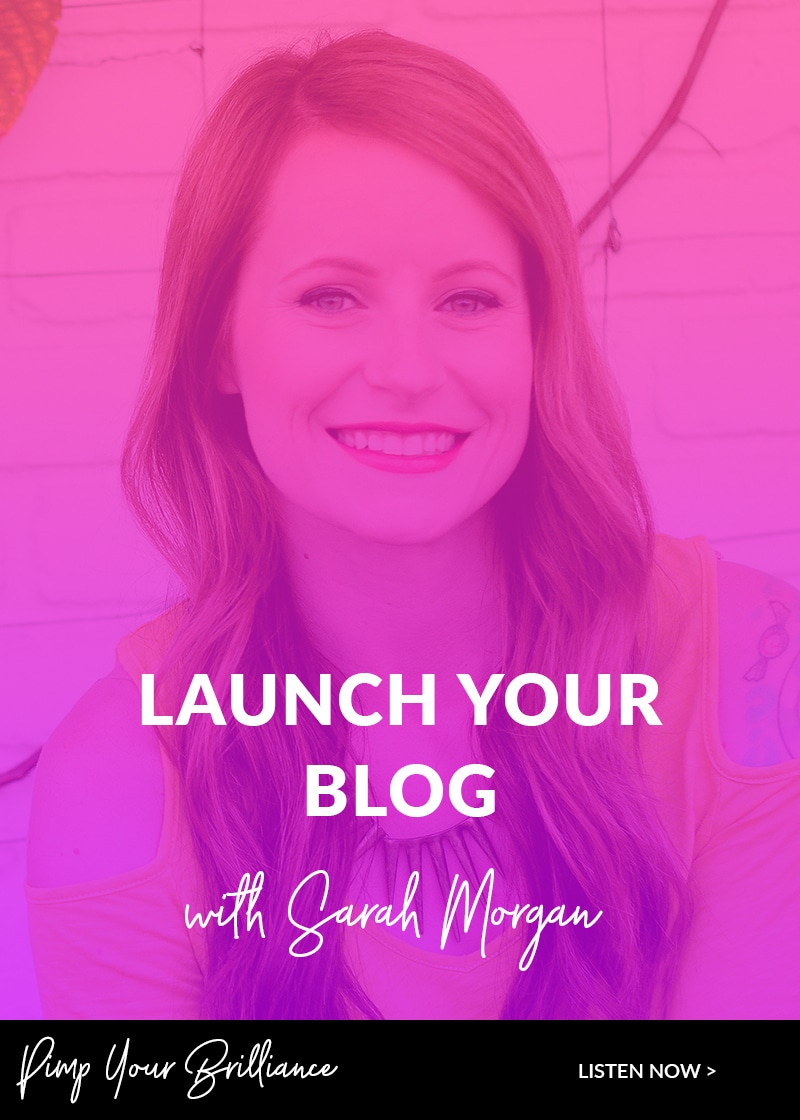 ---
This is part 3 of the Fear Less series.
If I had a dollar for every time some told me that they wanted to start a blog, I could stop working. Seriously, it isn't an exaggeration. Lots of people still want to launch their blogs and those same people are really afraid to do so.
Today on Pimp Your brilliance, I have Sarah Morgan of XOSarah.com. Sarah Morgan is an Emmy Award-winning digital strategist who's been blogging and building websites since age 13. She has built a career around helping bloggers and other small business owners kick ass online.
Sarah's extensive knowledge of the blogging industry is why I invited her on the show. In this episode, she shares why people are still afraid to start blogs, easy ways to start blogging and how to leverage your blog as a sales tool.
BEST MOMENTS:
[6:25] – Reasons why people haven't started blogs
[8:44] – Do you feel like blogging is dead?
[10:22] – Creating partnerships with large brands
[14:44] – Blogging can be for introverts!
[19:24] – Is it hard to manage blogging by yourself?
[20:50] – Easy and free ways to start blogging
[22:03] – Best ideas for first investments
[23:34] – Knowing your niche
[28:06] – Leveraging your blog into a sales tool
[30:08] – Being a successful self-manager
[33:47] – How Sarah currently is marketing her blog
[39:04] – Pimp Your Brilliance Action Challenge — Things that you can do right now to start your blog
VALUABLE RESOURCES:
Sarah's Blog
Dare To Blog – FREE blogging course
HERE'S HOW TO SUBSCRIBE & REVIEW
Want to be the first to know when new episodes drop? Click here to subscribe in iTunes!
Podcast reviews are the internet equivalent of high-fives. iTunes uses the reviews to help their algorithms rank podcast shows. Basically, the more reviews the merrier. I would be extremely grateful if you took a moment to leave a review.
#PIMPYOURBRILLIANCE
Loving the podcast? Want to connect with other brilliant creative entrepreneurs? I encourage you to use the hashtag #PimpYourBrilliance and show us what you're up to.