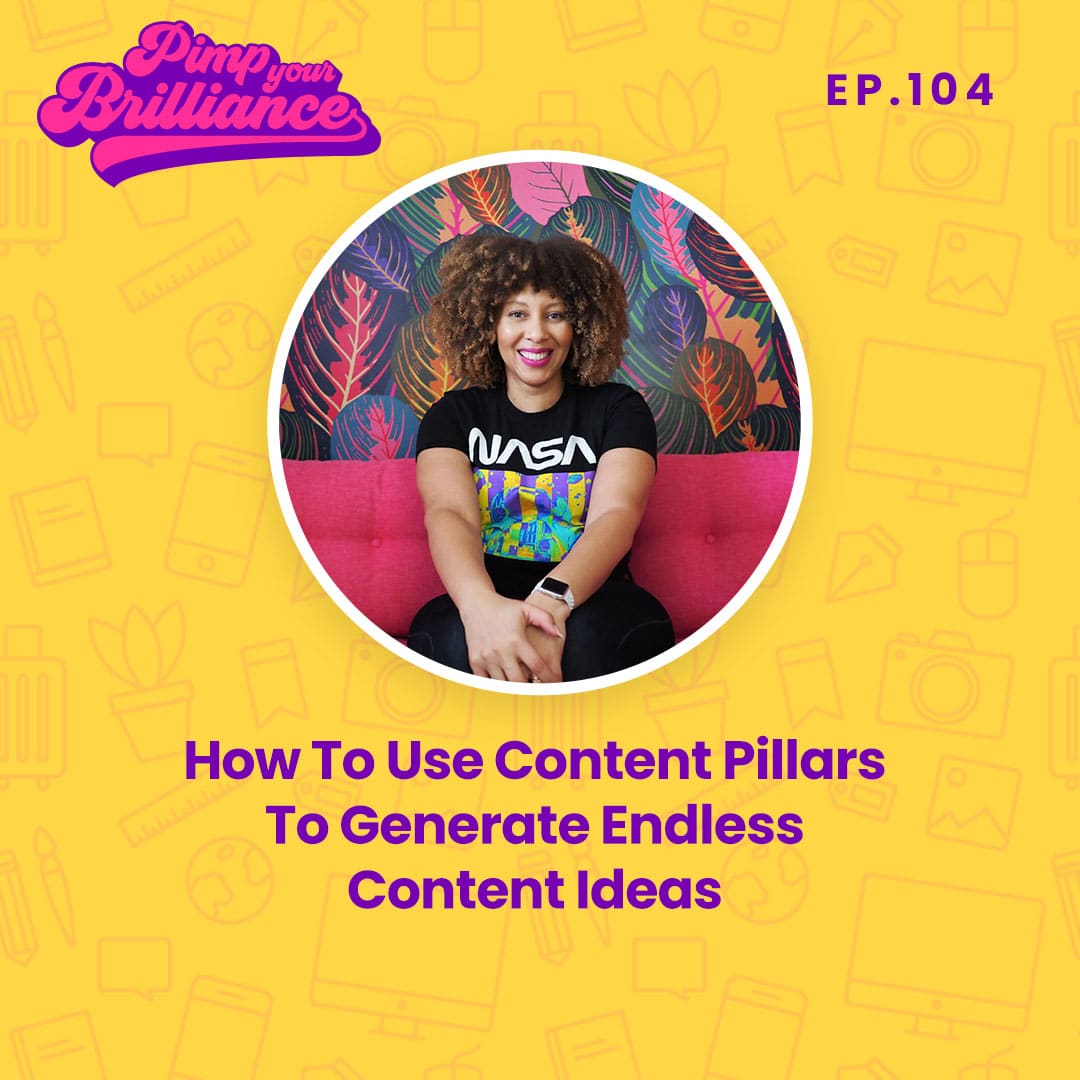 ---
Resources Mentioned:
---
With all of the things you need to be doing in your business, trying to figure out what to write or post about probably isn't a problem you feel excited about solving.
Today I want to talk about how you generate stellar content ideas that attract the right people and make you look like an expert.
I'm going to share a strategy that I use to brainstorm my content ideas. Bonus points that this strategy will make you look super knowledgeable. And that's what you want! You want people to stumble upon your website and be so impressed that they stick around consuming your content.
In this episode, I'm sharing how to use your content pillars to generate endless content ideas.
This method not only helps you generate a nice idea bank but if done right will help you do a better job of selling your offers. It helps you create relevant brand content.
What is a Content Pillar?
Content Pillars are 3 to 5 topics that your brand covers in-depth. It is high-value evergreen content. These are topics that your brand talks about consistently and amplifies on your chosen platforms.
Content pillars provide knowledge that your audience is actively searching for by offering practical advice, tutorials, and tips. They can also be the topics covered in your signature offer or webinars.
Your brand's content pillars should be focused on topics that you want to be known for. This is a good way to gain clarity around your niche. You can become an expert on one topic or a few specific and related ones.
One major benefit of establishing content pillars for your brand is that it makes content planning so much easier. Instead of trying to figure out what to record for your podcast or post to social media, you can use your content pillars to build out your editorial calendar months in advance.
Here's an example of a content pillar:
Let's say one of the topics you cover for your brand is goal setting. Some ideas for subtopics that you could cover are:
How to set a goal?
What is a SMART goal?
5 tips to set goals you'll actually achieve
Apps to help track your goals
The best goals setting planners
Ways to stay focused on your goals
Each one of those subtopics can be a separate piece of content and they all point back to the overall content pillar of goal setting.
Once you choose your content pillars you can cycle through these topics on a consistent basis. You never have to start from scratch trying to find content ideas because you'll have a topic that you can cover from different angles.
Step 1- Choose 3-5 Content Pillars
First things first, you need to choose 3-5 broad topics to use as your content pillars. These need to be topics that are relevant to your audience but also in alignment with what you want your brand to be known for.
What are 3-5 topics that you feel knowledgeable enough to cover in detail?
Being clear on several things will help you understand exactly what content you should be creating.
Your audience. Who is your audience? What are their needs?
Your business's purpose. How do you help your audience?
Your goals. How is the content you're creating going to move you closer to your goals?
Once you've decided on your content pillars, add them to a spreadsheet or Airtable base to begin creating a content idea bank.
Step 2- Build Out Your Content Pillars With Subtopics
Now that you've decided on your main content pillars, it's time to build out an idea bank. Use your content pillars to brainstorm subtopics and different angles that you can talk about.
One quick way to do this is to use a keyword search tool like AnswerthePublic.com to help you generate a list of questions that people are searching for related to your pillars.
Other ways to boost ideas:
Listen To Your Audience
I'm a big fan of asking your audience what they need because who knows better than them. Send a survey to your audience and ask them what topics they'd like to learn more about. If you've sent a survey already, comb through the responses and see which questions come up the most.
You can apply this same concept to most social networks if you want a less formal option. Create polls on Instagram. Tweet about it.
Make a list of all the frequently asked questions and add them to your idea bank.
Review Your Analytics
When in doubt, see what's already working. Reviewing your analytics to see what types of content is already resonating with your audience is a smart practice. There really is no need to reinvent the wheel.
Analyze the posts that have received the most engagement from your audience. This doesn't have to be limited solely to your website content. You can review analytics on nearly every social media platform.
Make a note of the types of visuals and captions that are getting the most shares or comments. Add similar content to your idea bank spreadsheet.
Step 3- Use Your Content Idea Bank To Plan Out Your Editorial Calendar
You're almost done. Now that you've generated all of these amazing content ideas, when are you going to publish them?
This is how you start to get ahead with your content creation. Use your idea bank to plan out the next 30 to 60 days of content. This should be a mix of long-form content, emails, and social media.
My 3 step content strategy looks like this:
Focus on foundational articles. These are longer pieces of content (blog posts, podcasts, YouTube videos) that I want to rank in search engines.
Build trust and nurture my audience by sending engaging emails.
Sprinkle in a bit of social media content for my favorite platform(s).
Add tentative publishing dates for each piece of content that you plan to create. Then, work backward from your publishing dates to plan when you will create the actual content. Long-form content is going to take more time so plan appropriately.
---
Pin This: